August 7th, 2010, 05:50 Posted By: bandit


ENTER NOW TO WIN!!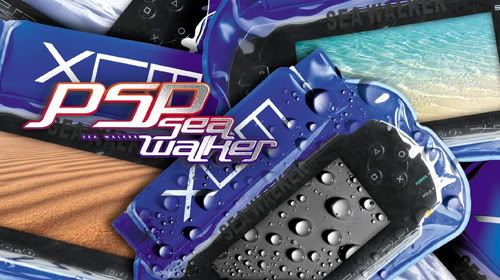 We all LOVE contests that give away FREE stuff, so we have teamed up with XCM to give you a chance to win ONE of five XCM SeaWalker Waterproof Bag for the PSP! That's right, there will be FIVE winners! These waterproof bags are versatile and durable. The XCM SeaWalker Waterproof Bag provides unbeatable protection for the PSP console. Interactive, waterproof, and drop-resistant, XCM SeaWalker waterproof bag is ready for any adventure. Bring on the rain, snow, dirt and dust! Don't own a PSP? You can probably use this to store your cellphone, electronic devices or money/keys when you go to the beach or pool.

Features:
Waterproof bag suitable for the PSP™
Play PSP™ games while diving or at home in your bath tub
Protects up to 20m underwater
Dust-proof, dirt-proof, sand-proof, and drop-proof
Can withstand extreme Low and High temperatures
To enter, all you have to do is comment on this post. In order to posts comments, you must register first, if you aren't registered already. This contest is open to all gamers WORLDWIDE! Winners will be selected at the end of August. We will contact winners for mailing address and all items will be shipped to you by XCM.

Thanks to everyone who enters and good luck. Remember to post a comment in order to be entered into the contest. A big THANK YOU to XCM for providing the goods. (Colors will be sent at random).

Be sure to subscribe and follow us on YouTube, Facebook and Twitter for more news and future contests!





DCEmu Reviews and DCEmu is not responsible for lost or damaged packages, damaged PSPs and/or electronic devices. All shipping of prizes are handled by XCM. Any concerns in regards to XCM SeaWalker PSP Waterproof Bag or shipping, please contact XCM at xcmcc@xcm.cc.

Images via comments



For more information and downloads, click here!


There are 51 comments - Join In and Discuss Here