February 28th, 2010, 20:49 Posted By: bandit

Razer Arctosa USB Gaming Keyboard
Manufacturer: Razer
Site: Buy from Amazon (Silver) / Buy from Amazon (Black) / Buy from Razer
Price: $49.99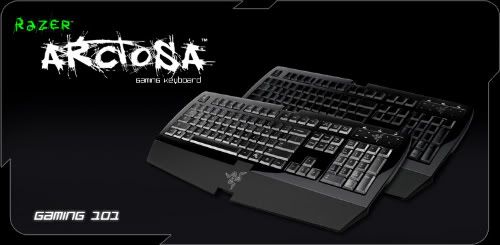 Overview : Engineered with industry- leading gaming technology from Razer, the Razer Arctosa comes with outstanding features like fully-programmable Hyperesponse™ keys with macro capabilities, customizable software profiles with on-the-fly switching and 1000Hz Ultrapolling™, giving you the competitive edge to perform faster and better in-game.

Say goodbye to amateur hour; your gaming abilities can be brought to the next level now.

Slim Keycap Structure with Hyperesponse™ Technology
The Hyperesponse™ keys of the Razer Arctosa reduce key latency and maximize response for critical actions during competitive gameplay ensuring fast, accurate and consistent actuation response in the intense frenzy of competitive gameplay.

Selective anti-ghosting capability around WASD gaming cluster
The Razer Arctosa addresses "ghosting" signal failure that occurs when you press multiple keys simultaneously on traditional keyboards. Selective anti-ghosting around the WASD gaming cluster on the Razer Arctosa allows more commands to be entered at any one time without the "ghosting" signal failure.

Fully-programmable keys with macro capabilities
Too many keystrokes to enter and too little keys? Sometimes we wish we had more fingers (or maybe an additional arm for that can of soda or beer while we're in the middle of a raid.) The next best thing would be fully programmable keys with macro capabilities that enable instantaneous, multiple commands with a single keystroke. Buy armor and weapons or execute complex manoeuvres with a single key with the Razer Arctosa. Some things are better than extra fingers (or arms).

Specs:
Fully-programmable keys with macro capabilities
Selective anti-ghosting for WASD gaming cluster
Slim keycap structure with Hyperesponse™ technology
Easy access media keys
Gaming mode option for deactivation of the Windows key
10 customizable software profiles with on-the-fly switching
1000Hz Ultrapolling™ / 1ms response time
Detachable wrist rest
Approximate size:

470mm (length) x 165mm (width) x 20mm (height) - without wrist rest
470mm (length) x 222mm (width) x 20mm (height) - with wrist rest
System Requirements:
PC with built-in USB
Windows® XP / x64 / Vista / Vista64
CD-ROM drive
Internet connection (for driver installation)
35MB of free hard disk space
Quality/Usability : Although this keyboard is mainly for PC and PC gaming use, this review mainly revolves around console gaming with the use of XFPS 4.0 Force for PS3 and Speed for Xbox 360. This can also be used with XFPS Rateup for PS3 and XFPS Sniper Plus for Xbox 360.

The Razer Arctosa came in a very nice packaging. The keyboard was packed in black cardboard box with a black sleeve case in the middle of the box that holds the manual, software CD on the back of manual, stickers and inserts. You can install the software on the CD (which the program connects to the internet and downloads the latest software) or download from Razer's support website. I personally prefer to download from the support website since it usually contains the latest updates. I'll discuss a little further about the software below. The keyboard is well built and excellent quality. The keyboard is black as well as the lettering on the keys. Black on black looks nice on cars but not so good on this keyboard. It makes the letters difficult to see in low light conditions. Holding the keyboard at a certain angle, you can see the letters and numbers since it shines. Since I have a desk lamp on top of my computer desk and my keyboard on a keyboard draw on my desk, its hard to see since the top of the desk overshadows the keyboard and blocks the light from the desk lamp.

The Arctosa is a very sleek looking keyboard with a nice profile. On the bottom top of the keyboard are feets/stands that flip out to provide some height. The palm rest can be removed by loosening a few screws. I wonder why the used screws to hold it in place rather than clips.

On the top right corner of the keybard are three (3) LED indicators for Caps, Number and Scroll lock. These LEDs are really bright and can be blinding when looked at. Beneath these indicators are eight (8) media buttons. At first glance these buttons are not raised or protruding and you would think maybe they were touch sensitive but when you press on them, they click. The media buttons consists of play/pause, stop, previous and next on the left side and volume up, down and mute on the right side. There is also a Razer logo in the center of the that acts as a button which is used for switching macro profiles. The buttons work well so as long you're in the right application. When you have the software installed, it provides a menu to tell it what program you use to listen to music or watch movies with such as Windows Media Player, iTunes and Real Player. Using the keyboard for normal tasks such as web browsing, Word document, etc. However, these functions can only be used when you're using the computer. This will NOT work when playing video games.

All buttons and keys you find on a normal keyboard even "Windows" key will be found on the Arctosa. The keys have a short return when pressed which leads to faster keystrokes especially when it comes to game play. On a regular keyboard, the buttons are higher but with the Arctosa, they're slim keys. The keys are well spaced out and not crammed.

As for the software and customizing macros or keys, this would do no good for console gaming. These have nothing to do with console gaming since there are no key combos or anything. All the key programming is done on the device of the XFPS Rateup for PS3 or XFPS Sniper Plus for Xbox 360. If you're using XFPS 4.0 Force for PS3 and Speed for Xbox 360, programming of keys is done on XCM's software.

If you're interested in using this keyboard for PC gaming and would like a review, there are many reviews online that focuses on PC gaming.

The USB cord is about 6' long.

Conclusion : Overall, the Razer Arctosa USB Gaming Keyboard is like any other keyboard with a few exceptions. The downfall of this specific keyboard is the black on black. If you're not in a well lit room or have any light shining at the keyboard, it will be hard to see the keys. So if you move your hands from the keys, usually you take a quick look and you know where to place your fingers. Since its black on black, it will take you a little longer. However, Razer has two versions of this keyboard. The other version is also black but has silver lettering which makes it easier to see.

Since my keyboard is resting on my keyboard draw and slightly pushed in, the LEDs on top of the keyboard are covered by the top of the my desk. However, if you dont have your keyboard all the way in or you can see the entire keyboard, the LEDs are pretty intense and can be a distraction. Theres no way to dim or turn these LEDs off so you'll have to add some black tape to cover it completely or a dark transparent tape or paper to help soften the intensity.

Since the software does not install the actual drivers but instead installs a program and than downloads its from the internet, why add a CD? You're better off skipping the software CD and just download directly from Razer's support website.

Images via comments



For more information and downloads, click here!


There are 0 comments - Join In and Discuss Here