September 23rd, 2013, 16:17 Posted By: wraggster

Hi all its been a while since i did a review and if i am being honest i may be a little rusty, one thing i can say is that im not a techie all i really want to know is if the product does what i expect of it, for the sake of this review, the product is a JXD S7300 Android Tablet which also doubles as a handheld console. The great guys at DealExtreme asked me to review it and i gladly obliged.

First off lets take a look at the tablet with photos: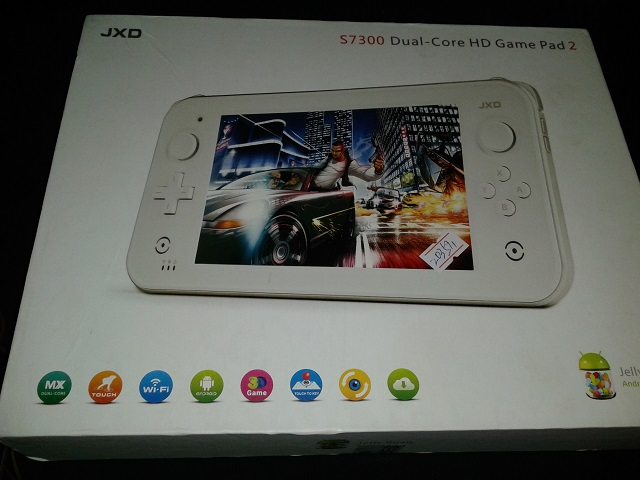 Already im salivating like a child waiting to open a Xmas present, i love emulators and the ability to play them with joypads pleases me.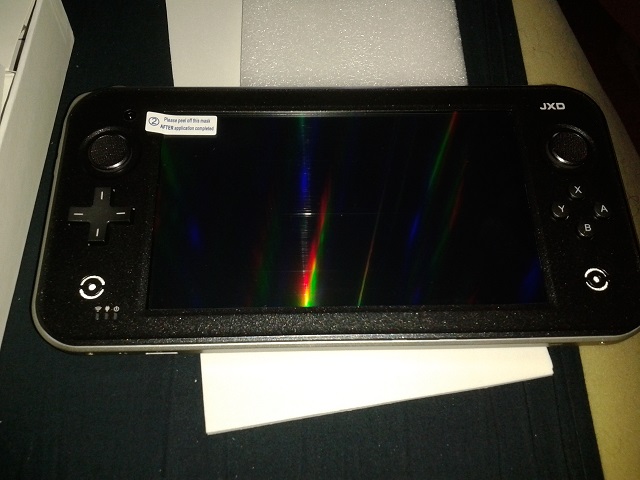 Heres the tablet itself, those of you who are astute will notice that it looks like a clone of the WiiU Tablet which to be fair isnt a bad thing. What youll notice is Dual Analogue controllers and a Dpad, 4 buttons on right hand side and also shoulder buttons, this baby looks the job for anything from Snes to PSX and N64 Emulation.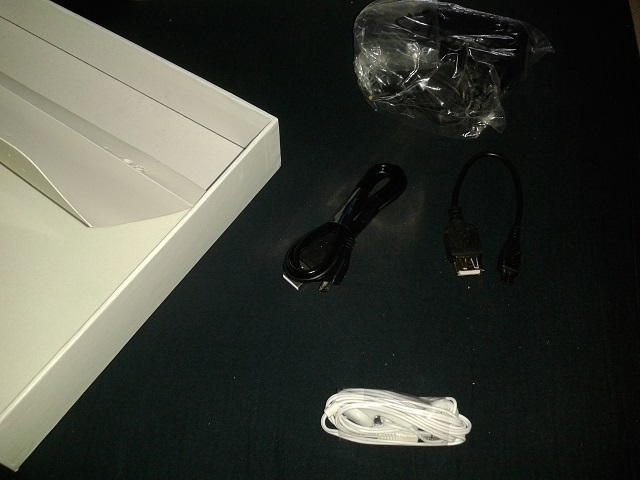 a few cables to keep you happy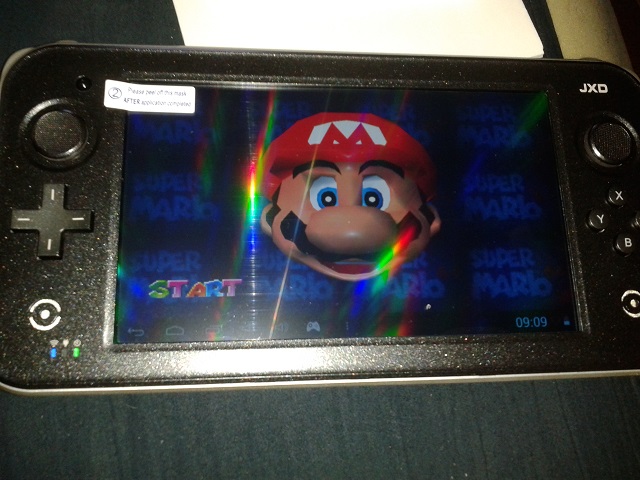 Super Mario 64 playing on the Tablet, no wonder these reviews take so long, especially when you fall in love with the old games again.

Heres the most interesting of the Specs:


| | |
| --- | --- |
| Color | Black |
| Material | Plastic housing |
| Operating System | Android 4.1 |
| Processor | Amlogic MX Cortex-A9 Dual Core |
| GPU | ARM mali400 |
| Memory Capacity | RAM: DDR 3 1GB; ROM: 8GB |
| Expansion Slot | Supports TF card up to 32GB |
| Display Size | 7 Inch |
| Screen Resolution | 1024 x 600 Pixels |
| Touch Screen | Capacitive screen |
| Digital Camera | 300KP |
| Video Formats | RMVB, AVI, MPEG-4, ASP, DIVX, WMV, F4V |
| Audio Formats | MP3, WMA, FLAC, OGG etc. |
| Images Formats | JPG, BMP, PNG etc. |
| E-book Formats | PDF, TXT, CHM, HTML etc. |
| Game Formats | PS1, N64, CP1/CP2/Neo-Geo arcade game, Geo, GBA, SFC, MD, FC |
| Other Features | 5-point touch screen |
| AV-out | HDMI dual-screen output, supports up to max. 1080p |
| Sensor | G-sensor |
| Speaker | Yes |
| Microphone | Yes |
| Wi-Fi | 802.11 b/g/n |
| Slots / Interface | 1 x TF card slot, 1 x 3.5mm earphone jack, 1 x Mini HDMI, 1 x Micro USB port, 1 x DC port |
| Power Supply | Built-in 4000mAh lithium polymer battery |


Onto the Review

First off this Tablet isnt an iPad nor a Samsung Galaxy Tab or a Kindle Fire HD but with regards to the price its aimed at a different market. The JXD S7300 is in my eyes aimed at those who want more of a bargain and especially those who want to use this device for browsing the internet, going on facebook and twitter and for me playing Emulators.

The JXD S7300 comes with Android 4.1.1 otherwise known as Jelly Bean installed which means its going to be useful with just about any Android app released. The tablet boasts a 1.5GHZ Dual Core Arm Cortex A9 CPU with 1GB DDR3 Ram so looking so far at the specs it sounds pretty decent, it also comes with emulators for PS1, CPS1/CPS2, Neo Geo, Nintendo 64, GBA, Snes, Megadrive and Nes already installed, so just find some roms and your in heaven



Where the JXD S7300 has a great advantage is in the emulator dept, yes you can play via touchscreen but i was brought up on games with a joypad and in my opinion the older games play far better on a joypad. I can play Nintendo 64 Emulators on my Samsung Galaxy Ace 2 but i get bored after a few minutes trying to play with touchscreens. The JXD S7300 has a Dpad, 2 analogue controllers, 4 buttons like you would expect on a Snes, Start and Select buttons and even 2 buttons either side on the shoulder. This baby is well kitted out.

Turn her on

The power button is on the side and within 5 seconds it boots up to a screen with the time and date on and a padlock for you to open to access all the features. First on the list for me to do was set up the Wifi and it found a whole load of networks and inputting my password and connecting took just a few seconds, first off i tried BBC News as it was already on the front page, i was asked if i wanted to install the app and it did within a second and froze. It wouldnt respond after so i turned the tablet on and off, tried the same with Facebook and Youtube and they worked fine, maybe just a glitch.

Video Playback/Streaming

On the subject of Youtube, i ve been watching wrestling and ive got to say im really impressed, its not a retina display like on iPad but for the money its very decent, i can look at it from many angles and the picture stays the same. So for video streaming off the net it gets a big tick from me.

Web Browsing

The browser on the JXD S7300 loads up Google as its home page so did a search and the results came up very fast so clicked on DCEmu, i mean where else you gonna go, the page loaded great and the ability to zoom in and out like i can on my much smaller phone worked great the 7" Capacitive Screen works great, visually if your reading webpages or for that matter Ebooks then the resolution will be very pleasing to you. If you load up photos in the browser you can pinch in and out to great effect. Gotta say im likng this tablet.

Music

Played some Backstreet Boys on a high volume and for a tablet you get a decent sound coming from it, the music player that comes with the tablet is simple, but no stuttering and plays how it should, cant ask for any more than that.

N64 Emulation

This is the area i was most interested in, with the specs on board it should deliver fairly decent N64 Emulation depending on what emulator is used. The first time i tried Super Mario 64 it crashed so i had to turn off and on, it does do it now and again so yeah a little annoying but not a killer, the emulator uses the joypad and not the touchscreen, for me i wasnt bothered, i dont want to play N64 games on a touchscreen anyhow. Mario 64 loads up great, picture perfect and sound too, i doubt its 100% accurate but yeah it feels very very close.

One thing i did notice whilst playing is that the left analogue controller would stick now and again, not too detrimental but a little annoying. You can save states and do everything you can in most windows emulators.

Can i recommend N64 emulation, from this first test oh hell yeah.

Played a couple of Megadrive games and they were equally as impressive. Then went into NeoGeo with KOF97 and the buttons were really responsive, i won a couple of bouts and like the previous 2 emulators i was impressed with speed, sound and playability on this device.

GAME CENTER X

Game Center X is JXDs Games Market it seems with hundreds of games to download, i clicked on a few to download and they quietly downloaded in the background, didnt have to sign in or anything to get them. Seems a great way to get more games. Downloaded Mini Golf and it installed very quickly. Yet again im impressed.

Android Games

We have an Android Tablet at home and its crap for playing any 3d games but ive just played some that were pre installed and very happy with the quality of graphics, no speed or sound issues, although i was crap trying to race a car until i realised that i had to tip the tablet to play the game

.

USB Storage

Todayi thought i would give theUSB Storage a try, had some films on my USB Memory Stick and went into the Media Player to play them and i can reveal there was no issues at all, you can also do the same for roms for your emulators, with the price of USB Sticks these days its a great way of bumping up the Storage capacities of the JXD S7300.


Good or Bad the Conclusion

The JXD S7300 is a Tablet that also doubles as a joypad with a screen and despite me having a few issues with the analogue controller, this tablet is a massive step in the right direction as far as Android Tablets go, if you want to play via the Touchscreen you can but if you want retro gaming then this will give you portable gaming at a price $138 that wont break the bank. The screen delivers a 1024x600 resolution and you can output to an HDMI TV with different display resolutions accepted. Do you need an Ouya?, i think not, this does exactly the same without the need to be static in front of a tv. The JXD S7300 plays some quality Android games such as real racing 3 and dead trigger with no problems at all.

What adds more ticks to this tablet is the ability that it supports USB Joypads, so if you have a favourite emulator that you want to play even more perfectly then this is even more reason to buy one.

Like ive said before this is no iPad or top end Android Tablet but it doesnt need to be, its aimed at the retro gamer in all of us and performs exceptionally well, for a price of $138 over at DealExtreme your getting an handheld console that will play a mass of emulators and all your favourite apps and games from the Android OS.

Then you have the GameCenter X app which lets you download games galore to your JXD although i have no clue who is hosting these :P.

So would i recommend you buy it, yes most certainly, its not perfect but no gadget is, there are updated firmwares that improve some of the complaints ive mentioned above, the fact you can get updated emulators all the time and it plays top end Android games make this one of the best devices ive used in a long while.

Well done JXD for a great Gaming Tablet that knocks spots off some of the other offerings out there.



For more information and downloads, click here!


There are 4 comments - Join In and Discuss Here