March 24th, 2008, 19:07 Posted By: bandit

Acekard R.P.G. 8G PRO SLOT-1 (1GB)
Manufacturer: Acekard
Site: Buy from Shop.01Media
Price: $76.00




Overview : The Acekard R.P.G. is the only slot-1 solution that offers both internal NAND flash memory, as well as removable media via MicroSD. In game lag is a thing of the past thanks to the ultra fast NAND memory and combined with the MicroSD slot, you can have virtually unlimited capacity. Supports microSDHC card.

[Build in "Quick Exchange" Technology"]
With the "Quick Exchange" Technology", Acekard R.P.G can easily exchange files between NAND Flash and MicoSD memory card and you can also choose either start the game in NAND or Micro SD memory card.

[World's first "AUTO Save type detection" flash card]
Acekard R.P.G build in with the "AUTO SAVE TYPE DETECTION" technology which able to auto detects the save type up to 99% of the games. (Until now, we still haven't found any games that Acekard R.P.G is not able to detect.)

[Build in USB connector, support U-Disk]
No more Card Reader or slot 2 USB Reader is needed. To transfer the games between computer and Acekard R.P.G, the only thing you need is a standard Mini USB cable. Acekard R.P.G supports both USB 1.0 and 2.0, so the file transfer speed is extremely fast. Once the Acekard R.P.G connects with the computer, it can be used as an U-Disk as well.(However, if user want to use the microSD card on PC, a card reader is needed.)

[100% Compatibility for all NDS games]
Acekard R.P.G simulates the original game cart which makes it able to play all the new released NDS games (Clean roms) without updating the kernels.

[Build in "Rom Trimming" Function; automatically remove the un-necessary data in the Roms]
Acekard R.P.G is the world's first flash card which has the "Rom Trimming" Function build in. When you copy the file between Micro SD and NAND flash, if there is any un-necessary data in the Roms, Acekard R.P.G will remove it automatically.

[Fully touch screen operation]
Acekard R.P.G is using the idea of iPhone which gives the customer a totally new control experience*.

* You are able to switch to "Button Control" as well.

[Original game cart size, no flash needed, no passme needed, easy plug and play]
Acekard R.P.G has the same size as original game cart and you don't have to flash your machine or using passkey in order to use Acekard R.P.G. It is just plug and play.

[Able to use as a passkey to boot slot2 flash cards]
Acekard R.P.G can be used as a passkey, so you can boot your slot2 flash cards with it, and no MicroSD card is needed.

[Using "write balance" technology, able to re-write NAND flash more than usual]
The "write balance" technology makes the Acekard R.P.G utilize the NAND flash evenly, so it will last longer than the original game cart.

[Save file directly stored into memory card, no battery needed and never lost]
Acekard R.P.G will store your save file directly into NAND flash or Micro SD memory card, so there is no battery needed to keep the save file, and it will never lost.

[Micro SD files exchange]
You can exchange the files between two Micro SD memory cards by using the build in NAND Flash. Make games sharing more easily

[Support Multi-language]
You can easily change the language within Acekard R.P.G.

[Easy Skin Change]
You can easily DIY Acekard R.P.G skin, and change it at anytime.

[Open Source]
We will open all the source code of our OS and also the AKMENU and Acekard R.P.G I/O interface, so homebrew programmer could easily change or re-code the whole system.

[Acekard R.P.G future function]
Support multi save files
Support Action Replay cheat

Quality/Usability : Acekard R.P.G. is not only the first open source flash cart but also the first to offer both onboard flash memory (1GB) and the ability to use microSD as well (SDHC compatible). The acronym for R.P.G. stands for Real Play Gear. Acekard has also released the open source files for the loader but not the firmware itself.

The packaging for the Acekard R.P.G. is nice and comes in a plastic case with instructions included. The case holds the Acekard R.P.G. as well as a GBA cart. The plastic case slips inside a white cardboard sleeve. Shop.01Media includes a mini-USB cable for all your transferring needs.

The cart itself is the same size as a normal DS cartridge but looks wise, it does not. the R.P.G. does not look like your standard flash carts that you see. The Acekard sticker is on the back side rather on the front. On the front or the back, has the Acekard logo molded onto a semi-transparent casing. So when inserting the cart into your DS, instead of the sticker facing out, it will be facing in. What you'll notice immediately is the mini-USB port on the top of the R.P.G., along with a microSD slot. The microSD slot is spring loaded and accommodates both standard microSD and microSDHC cards. Built internally is a flash memory that holds up to 1GB. So you have the option of using the internal memory or microSD slot.

What is mostly unique is the open-source feature. Anyone who is talented or has the knowledge, can modify, customize, improve on or completely redo the loader files for the R.P.G. but they wont be able to touch the firmware files itself. Only Acekard can.

No CD containing files is included. But if you've used flash cart devices before, its best to get the latest files from the homepage. If connecting the R.P.G. to your PC via USB cable, Windows will automatically recognize the device and install the drivers. All you have to do is drag and drop your files. Setting up files is fairly simple. AKMENU4.NDS is the main file system and is located on the root of the NAND/microSD while "__rpg" directory holds languages, skins, DLDI drivers, and other essential system software. R.P.G. support folders so you can place all your homebrew in one folder and DS games in another. Unfortunately, you wont be able to access the microSD slot by using the USB card. You'll need a card reader for the microSD.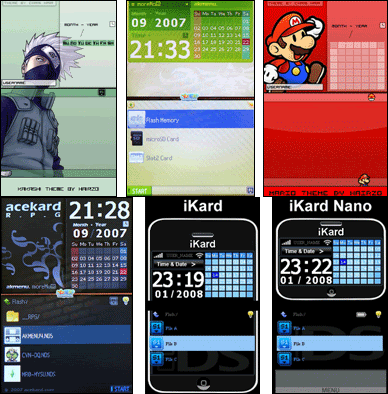 The top screen displays handheld name, calendar, time and date. The bottom screen is the file navigator that shows three main icons (Flash Memory, microSD Card and Slot2 Card). The screen can be controlled either with pad/buttons or stylus and lets you choose your files. Like most flash carts, the GUI is skinnable. Acekards forums has some nice looking skins available. The bottom screen also contains folder up icon on the top left allowing you to go back to previous folder, screen brightness on the top right. On the bottom right is an icon that flickers when onboard flash memory/microSD is being accessed and a "Start" button on the bottom left. This is where the options/settings for the GUI reside. You can also access this menu simply by pressing the START button on the DS. In this menu, you have following selections to choose from:

Copy, Cut, Delete, Paste: allows user to transfer files between the storage options such as NAND to MicroSD, MicroSD to NAND
Special: enable Download Play, In-Game Cheat, and In-Game Soft Reset (L+R+A+B+DOWN)
System Settings: change skins, languages, brightness (DS Lite only), allow which files show up in the browser (NDS, NDS+SAV and All), and toggle the ability to trim ROMs
File Info: shows information on the file selected
Help: brings up menu showing what functions all the buttons play in the GUI
R.P.G. recognizes .NDS and .SAV files and folders and shows only four files at one time. Selected files will have a pulsating icon. Unknown files will have a question mark beside it.

By now, all flash carts should be 100% ROM compatibility. The R.P.G. also automatically detects saves. There should be no problems what so ever whether it be lag, unable to load or run games. All games we loaded for testing purposes, have loaded and worked fine on both a standard 1GB microSD (Japan) as well as a 4GB microSDHC (Japan). This goes for regular playing as well as multiplayer, download play and WiFi. While both my cards were made in Japan, I did not have a problem with any games. I have experienced with other microSDs that cards made in China or Taiwan tend to have problems. If you can get a card made in Japan, you'll have a better chance of running games.

Majority of the homebrew we tested worked nicely as Acekard R.P.G. supports automatic DLDI patching.

Conclusion : Overall, the Acekard R.P.G. 8G PRO SLOT-1 (1GB) is probably my most favorite flash cart thanks to the dual storage. Not only does it have onboard flash memory but also allows you to use microSDs. So instead of having 1GB, 2GB or 4GB of microSD/HC storage, you have an extra 1GB thanks to the onboard flash memory. Whats also great is the ability to transfer files from flash memory to microSD. Unfortunately, the price of the R.P.G. may hurt your wallet depending on how you look at it and compare it. Its approximately double the price of current Slot-1 flash carts. Then again, it has dual storage and includes a USB cable. Since the R.P.G. case has room for a GBA cart, I wonder if Acekard has something planned.

Please note that none of the "upgrade" products listed in this site are endorsed by Nintendo, Sony and/or Microsoft. DCEmu Reviews and DCEmu Network does not condone piracy. The primary functions of a "modchip" and/or "flashcart" are to allow you to play imported games and homebrew software that you legally own or simply just for experimenting with hardware. We in no way endorse piracy, and encourage all users to do the right thing and support the developers/manufacturers that support them. We do not take any responsibilities for any use outside of these parameters or where the use of such a device is illegal.

DIGG THIS


Images via comments



For more information and downloads, click here!


There are 3 comments - Join In and Discuss Here