November 13th, 2009, 01:16 Posted By: bandit

Talismoon Overlife Universal Charger
Manufacturer: Talismoon
Site: Buy from Divineo US
Price: $30.99

Universal Travel Charger (for non-EU users)
USB Power Travel Charger with Plug Converters / Travel All-in-One Universal AC Adapter with USB Power / Universal Travel AC Adapter Plug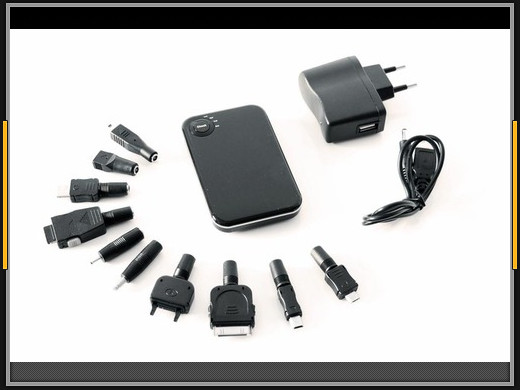 Overview : More than a universal all in one charger, the Overlife will store energy to reload any devices independently. It is your ideal nomad companion. Overlife is a small, black shiny design nomad battery.

Just plug it to any USB port or wall plug, and you can directly charge any Motorola - Samsung - Nokia - Sony Ericsson - Samsung - iPhone - iPod - Mini USB - NDSL - NDSi and all PSP models. You can also store energy in, so you can charge any of your devices on the go.

A blue LED indicator shows you the level of charge and the charging status.

This perfect nomad companion will avoid you traveling with numerous bulky chargers, and provide emergency power in any situation.

Features:
High capacity Lithium-ion rechargeable battery pack style
Charge anywhere, recharge anything - standard USB input and output
Inter-changeable connector heads charging different mobile phones, MP3/MP4 player, iPod, iPhone, PSP, NDS, etc.
Power indicator LED shows battery capacity level.
Impressive 2500mAh storage (recharge your devices and gadgets several times)
None memory effect, short circuit protection
Powerful power supply is enough for even the most power-hungry mobile devices.
Specifications:
Battery Type: Lithium-ion polymer rechargeable battery
Capacity: 2500mAh
Input Voltage: AC 100V-240V/50Hz-60Hz DC 5V / 1A
Output Current: 1000mA (Max)
Output Volts: 5.4V (+/-0.2V)
Output Current: 1000mA (Max)
Charging time: 3 ~ 3.5 Hours.
Cycle Life: At least 500 times
Operating Temperature: -10°C / 40°C
Storage and Transportation Temperature: -20°C / 50°C
Dimension: 92.5 * 57.3 * 13.8 mm
Weight: 80g
Quality/Usability : Sometimes I forget to charge my PSP, DS, iPod and most importantly, my Blackberry cellphone. Its worse when you're not near a wall outlet, computer or have your charger on you. These days, majority of portable devices can be charged via USB. Talismoon has developed a product to help give you enough power to beat that boss on the last level or to help you get through you long commute with your music/movie or even that last minute call to your wife/mother.

The Talismoon Overlife Charger has a nice piano black gloss casing but can be a potential to be a fingerprint magnet and scratches. The front has a "CHECK" button. Around this button are 4 LEDs. When you press the "CHECK" button, blue LEDs will light up that will display whether the battery is LOW, HALF or FULL. If Overlife is fully charged, all three blue LEDs will be lit up. As the charge slowly dissipates from charging other products, the LED next to FULL will get dimmer and dimmer. As more charge is drained from Overlife, the LED will get dimmer until it is fully discharged. The fourth LED is when the Overlife is in use (USE) and lights up blue as well.

I personally dont know why Talismoon choose this method of display when you check the status of battery. I would of preferred a single LED to tell me if its full, half or low. Having the LEDs dim can get a little confusing considering its a little hard to tell by the brightness of the LEDs. Or even a single LED that changes color to let me know how much power is left.

The charge time on this is a little disappointing. It takes about 3 hours from a drained Overlife to a fully charge Overlife. I can live with 1.5-2 hour charge but 3 hours is a very long time. To charge the Overlife, you can use the included USB cable. However, this USB cable has two purposes...one is to charge the Overlife and one is to charge other devices. Simply connect the USB cord into the USB out port at the top of Overlife, attach one of the heads to the other end of the USB cable and start charging! The USB out port has a rubber cover to protect it. Unfortunately, this cover doesnt come out or pull out. You will have to pull it back. Sometimes, this can get in the way. Would have been nice if it came out further.

I've tried charging a completely dead Sony PSP using the interchangeable head and Overlife, the charging indicator on both the PSP and Overlife constantly blinked on and off. I charged the PSP and at 10%, the Overlife still blinked and the power status light on the PSP didnt change orange but stayed green but you can slightly see orange blink. Despite the LED indicators, the PSP's power source now stated "external" but was not charging (when PSP is turned on). So it seems that Overlife is not powerful enough to charge a completely dead PSP since it probably requires more power in the beginning. You only get a steady orange light is if the PSP is on, you connect the charging cable and you put the PSP to sleep. If you turn on the PSP, it turns on and than turns off. You'll have to unplug the charging cable in order to turn the PSP on.

I was able to charge my Moixa USBCell AA Battery's, DS Lite, iPod Touch 2G and Blackberry Tour. With the output of 1000mAh, charge time didnt take long. I was able to charge my Blackberry Tour within an hour and a half. This came in handy when I was watching a movie on my Blackberry Tour which drained all my battery and my wife called discussing important wedding plans. I wasnt near a computer or outlet but I had my USB cable on me, so I connected the Overlife to my Blackberry and was able to finish our conversation.

Conclusion : Overall, the Talismoon Overlife Universal Charger works wonders...if you're not charging a device that requires a lot of power. Its portable and can charge any USB device on the fly. The piano black gloss look will make fingerprints stand out like a sore thumb...even scratches. The CHECK status can be a little confusing as the LED may look like the same brightness and can be a little bit deceiving. The Overlife lacks a carry case to store the Overlife, USB cable and interchangeable heads. It could be a carry case or even a pouch to store everything. If you live in a country other than Europe, you will need to purchase a universal power plug since the Overlife Charger only comes with a EU plug. Be sure to charge this early if you plan to take it with you because you'll need about 3 hours to charge fully.

Images via comments

DIGG THIS



For more information and downloads, click here!


There are 0 comments - Join In and Discuss Here