October 22nd, 2007, 01:55 Posted By: bandit

Double Wiimote Power Pack with Charger Stand
Review by: wraggster
Provided by: DCEmu Reviews
Manufacturer: Dragon
Site: Buy from GameInfinity
Price: $19.95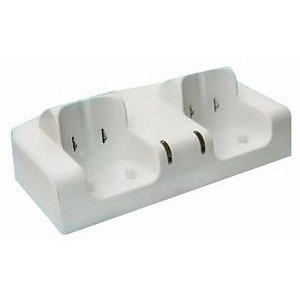 Overview : Stop wasting money on batteries and easily charge a set of Wiimotes with the Dragon Double Wiimote Power Pack with Charger Stand! A light indicator will let you know once remote controllers are fully charged, and you are ready to play again with many hours after around 2 hours of charging.

Easily charge and store your Wii Remotes with this Charge Station for Wii. It includes 2 NiMH rechargeable batteries, exclusively designed for the Wii Remote, each providing up to 25 hours of play time.

Features :
2 hours quick charge function
Full charge auto detect function
High quality and efficient product
Remote controller stand function
Rechargeable AAA size dry batteries compatible
4 * AAA size rechargeable batteries are included
Power charge cable is included
Normal alkaline AAA size dry batteries compatible
Simultaneously charge 2 Wii-remote controllers
Quality/Usability : The Dragon Double Wiimote Power Pack with Charger Stand consists of a USB Cable to get the power, A Base Deck for the actual charging with 2 points to charge your WiiMotes, you also get 4 750MAH AAA Batteries and the plastic casing they fit in which gives you the ability to charge the Wiimotes without having to take the batteries out every time.

The review sample came with no instructions but it is very simple to most people

Firstly make sure you put the batteries the right way around in the plastic battery casing, failure to do so could cause problems and well its not going to work.

The USB Cable can be connected to your Nintendo Wii or any USB Compatible Device, if you have a PC or Laptop i suggest using them over using your Nintendo Wii, put simply the less stress on the Nintendo Wii causes less problems with over heating. Once the USB Cable is connected to both Base Charging Unit and USB Host you can then put your Wiimotes onto the Base Unit.

Once you have connected the Wiimotes (with the plastic casing/rechargeable batteries) correctly, the light will light up to let you know its charging. Once the Wiimotes are charged the red light will go out. Now your ready for Wii Gaming

As the Wii is more a casual console its very hard to test how long the batteries are before they run out but being rechargeable you should easily get a day out of them before charging.

Conclusion : Overall, with the Wiimote being a bit on the hungry side with batteries its a great idea to use rechargeables and the ability to recharge without taking the batteries out every time is very handy The AAA batteries arent as powerful as 2 2500MAH AA Batteries but the ability to recharge without taking it all apart is a major plus. The only problem with this method is that you'll need to sync the Wiimote before using the Double Wiimote Power Pack. The charging of the Wiimotes took me longer than 2 hours but that may be down to my laptop I used to charge.

Do I recommend this product? Yes, very much so if your still using normal batteries then get one now.

Images via comments



For more information and downloads, click here!


There are 0 comments - Join In and Discuss Here