November 5th, 2010, 02:15 Posted By: bandit

PS3Break PS3 Break v1.1 USB Dongle
Manufacturer: PS3Break
Site: Buy from DealExtreme (v1.2) / Buy from VolumeRates (v1.1) / Buy from VolumeRates (v1.2) / Buy from LighTake (v1.1) / Buy from LighTake (v1.2) / Buy from PriceAngels (v1.1) / Buy from PriceAngels (v1.2) / Buy from AceKard.ca
Price: $18.00-$32.99



PS3Break ON/OFF Switch (not included with PS3Break but posted for those who own PS3 Slim and is interested)
Site: Buy from DealExtreme / Buy from LighTake / Buy from VolumeRates / Buy from PriceAngels
Price: $3.99-$6.00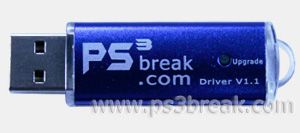 Overview : The PS3break Team presents a new design PS3break with Mini pocket-size package, which is out of the original model, the introduction of modern design, so that the items are more attractive and competitive. Let's review more exciting news here.

Features :
100% Upgradeable hardware firmware with V1.1 thoroughly!
The key "Upgrade" for software upgrading and avoids to be blocked by SONY. Users can also upgrade the updated software through computer.
Reading speed will be 2 times faster and it makes users to play more smoothly.
Games can be copied and saved to internal or external hard disk, in this way, the expensive blue-ray driver and disc can be abandoned.
Plug & play USB port, the installation will be finished in a few seconds.
Homebrew software is supported.
Simple and clear illustrations will guide you to install step by step.
PS3 Break is compatible with all fat and slim model.
Support Upgrade function by press the upgrade key (With Firmware V1.1) of the item.
No need Original BD booting-disc any more, Users can play the PS3 games directly.
Programmable USB freely.
Quality/Usability : There has been nothing but floods of jailbreak clones in the PlayStation 3 scene. But who's to complain? More options to choose from and more reasonably priced devices.

PS3Break released their original v1.0 and left early adopters hanging as their bootloader did not allow users to update their PS3Break. This left a sour taste in buyers mouth. But like any business/manufacturer, they released a new product and in comes v1.1. PS3Break v1.1 comes in a plastic case with TRUTH INQUIRY (more info about this below) and a light blue strap. The PS3Break itself is in an aluminum casing and has a UPGRADE button on side of the case. The UPGRADE button is for when you want to update the PS3Break with the latest files, it puts the PS3Break into update mode.

PS3Break is one of the clones that is being cloned with fakes. To combat this and protecting PS3Break users, PS3Break has included a "TRUTH INQUIRY" sticker on their cases. The concept is becoming a tend for identifying fakes. To confirm that its authentic, you would need to scratch up the sticker like a scratch off lottery ticket and then enter the 20-digit code on their website, then click CHECK.




Instructions on How to Load PS3Break files :
Required files:
PS3Break Burner Tool v1.1
dotNetFx40_Full_x86_x64.exe (included with Burner Tool)
vcredist_x86.exe (included with Burner Tool)
PS3break Burner file
Rather than giving you more things to read about and directions on how to setup and update the PS3Break v1.1, we've made a video as well as how to operate it.



Since making the video, PS3Break now directs you to a different site to download the necessary files. It now tells you to go to GOGSoftware.




I had no problems installing FTP program, SNES homebrew application, homebrew games and Open Manager. In order for me to fully test, I had to remove what I had already installed. PS3Break has released their own version of Open Manager but its really nothing different than the one released by moh.sakhaii. All they did was change logos and replaced it with their own. I personally would just stick with the original as you'll have a quicker and better support.

Conclusion : Overall, the PS3Break PS3 Break v1.1 USB Dongle worked like any other jailbreak device on the market. However, with Sony going on a suing spree and doing everything they can to stop these type of devices, PS3Break is one of them. The reason is because it uses the words "PS3". Not to mention, it makes it easier for customs to stop and cease PS3Breaks with Sony winning court rulings. In order to put the PS3Break into update mode, you needed to use a sharp object whether it be a pen, pencil or paperclip to press on the UPDATE button. This got annoying trying to scrounge for something. I guess PS3Break kind of noticed this too and released v1.2 and the UPDATE button is now easily accessible. Yes, if you bought v1.0 or v1.1, you'll have to go out and buy a new PS3Break v1.2. I don't know of any other manufacturer that has released this many revisions. Its great that they are improving the aesthetic look and external functions but these are things that should of been present from the beginning.

PS3Break has also released their on ON/OFF switch for PS3 Slim owners. Unfortunately, I do not have one to review but thought I would provide a link to online sellers for those who are interested in getting one for their PS3 Slim.


Please note that none of the "upgrade" products listed in this site are endorsed by Nintendo, Sony and/or Microsoft. DCEmu Reviews and DCEmu Network does not condone piracy. The primary functions of a "modchip" and/or "flashcart" are to allow you to play imported games and homebrew software that you legally own or simply just for experimenting with hardware. We in no way endorse piracy, and encourage all users to do the right thing and support the developers/manufacturers that support them. We do not take any responsibilities for any use outside of these parameters or where the use of such a device is illegal.

Images via comments



For more information and downloads, click here!


There are 7 comments - Join In and Discuss Here