November 30th, 2011, 05:06 Posted By: bandit

True Blue JB2 USB Dongle for PS3
Manufacturer: True Blue
Site: Buy from LighTake
Price: $59.99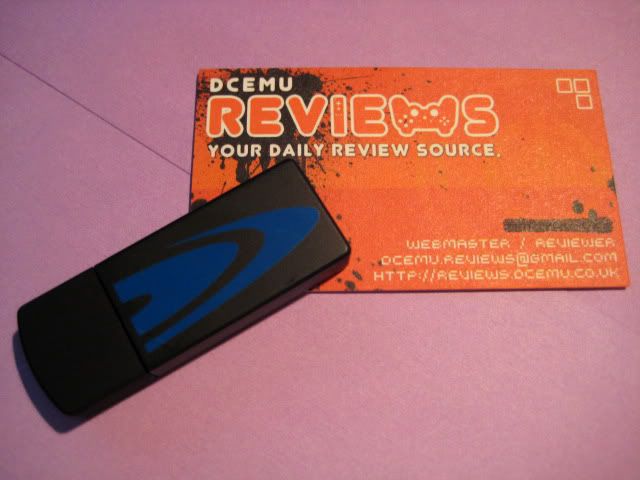 Overview : Unlock the true potential of your PS3 with True Blue – keep your PS3 on a homebrew enabled custom firmware, while at the same time enjoying the newest and most popular PS3 games.

Features :
Booting of games designed for PS3 system software v3.6 and above
Runs your existing games and new v3.6+ games from HDD in conjunction with standard backup managers
Does not require the power/eject trick
Custom v3.55 Dongle firmware behaves like OFW when True Blue is not inserted
Manufactured from highest grade components and Actel based
Durable and high quality metal case design
Tough and durable plastic packaging
Further features to be added as they are developed
On board 2 MBytes SPI flash
Supports Fat and Slim PS3 consoles currently running any firmware up to v3.55 and any PS3 which can be downgraded successfully from v3.6+ to v3.55 (NOTE: requires other tools, True Blue cannot downgrade a console)
Supports all regions of consoles
Supports all regions of v3.6+ games
Rock solid crystal oscillator on board for flawless timing
Quality/Usability : AS A REMINDER, WE DO NOT CONDONE PIRACY. THIS REVIEW IS FOR EDUCATIONAL AND INFORMATIONAL PURPOSES ONLY.

The jailbreak scene has been slow ever since Sony blocked any jailbreak dongle devices with new firmware updates. There have been custom firmwares and updates to them but nothing allowing newer games to be played on your console unless you have the official firmware installed but you lose all homebrew capabilities. But out of no where, True Blue is dubbed the new PS Jailbreak 2. No one really know who is behind it but all that matters is whether or not it works, how much support it will get and how long before Sony does something about it. We've all purchased the various dongles when the original PS Jailbreak was released as well as open source versions. Now, lets see what True Blue has to offer...

There are pictures of True Blues coming with plastic cases. However, the unit I received from LighTake came in a anti-static bag. It's still the same thing, just not fancy case. The True Blue JB2 dongle isn't something we're use to normally seeing when it comes to jailbreak dongles. Yes, its a USB device but what makes it different is that it doesn't come in a plastic housing. The black housing is actually metal with the True Blue logo printed on it. Even the cap is metal as well. The back end of the dongle has a small window to display LED status. Other than that, there is really not much about the dongle itself.

To use the True Blue, you must make sure your PS3 has a firmware of 3.55 It can either be OFW (official firmware) or CFW (custom firmware). So if you're still using firmware 3.41, upgrade to 3.55. Anything higher than 3.55, you will need to downgraded. If you have other jailbreak dongles, you can use that to downgrade but True Blue can not downgrade firmwares.

Setting up your PS3
Before you use True Blue, you must first install the 3.55-Dongle custom firmware onto your PS3. This is similar in function to the well known kmeaw CFW; however it also includes modifications which allow True Blue to operate correctly. The 3.55-Dongle firmware updater is distributed in a file labelled "TrueBlue-3.55-CFW.ZIP", and may be obtained through an internet search - once you have obtained it, please confirm the validity of the PS3UPDAT.PUP file contained within the ZIP archive by matching with one of the following hashes:

MD5: 43C522F8897D77B6165F95BCF3409090
SHA1: A64B010DB98996C7E53768D37D4D346F271D5950

Once you have confirmed that you have obtained the correct updater file, proceed with the update as follows:
Obtain a USB storage device such as a USB HDD or USB flash memory stick
Create a folder on the storage device in which to save the update file. Using a PC, create a folder named "PS3" on the storage device. Within the PS3 folder, create a folder named "UPDATE"
Extract "TrueBlue-3.55-CFW.ZIP" and you will get a folder. In that folder will be "PS3UPDAT.PUP"
Copy the "PS3UPDAT.PUP" file to the "UPDATE" folder created in step 2. Thus, you will have this path structure on your USB storage device: \PS3\UPDATE\PS3UPDAT.PUP
Insert the USB storage device into the PS3 and boot your PS3
From the home menu, select (Settings) -> (System Update) -> (Update via Storage Media)
The PS3 will notify you that the "3.55-Dongle" update was found. Select OK then follow the onscreen instructions to complete the update
After the update has completed, your PS3 will restart and you'll now be running the 3.55-Dongle custom firmware. This will also be visible under the System Software information screen. You may now enjoy the use of the True Blue dongle
(NOTE: The above procedure is only applicable to PS3's on or below system software v3.55)
Updating True Blue
From time to time, Team True Blue will release firmware updates for True Blue which will add new features. During my testing, Team True Blue released a new update to v2.3. Of course, version number will change when there are new updates. The process of updating the True Blue dongle is as follows.
Make sure your PS3 is running the True Blue "3.55-Dongle" CFW (custom firmware)
Copy "TrueBlueUpdate-2.3.pkg" to a USB flash drive
Boot your PS3 WITHOUT True Blue inserted, and then insert the USB flash drive
Navigate to (Game) -> (Install Package Files), and then select TrueBlueUpdate-2.3.pkg
The True Blue updater will be installed onto your PS3 HDD
Navigate to (Game) and load "True Blue Update v2.3"
The updater will start, and will then prompt you to insert the True Blue dongle. Insert it only at this point, and continue. Your dongle will then be updated
After the update procedure has completed your PS3 will reset, and you will then be able to enjoy your updated dongle
You may delete the True Blue Updater from your HDD after the update is complete
Using True Blue
To use True Blue, simply insert the dongle into one of the USB ports on your PS3 and power the system up. Do not remove the dongle at any point while the PS3 is running. True Blue for the most part functions just like a regular jailbreak/CFW in that you may install and run any homebrew software and all of the standard backup managers are supported. The most notable difference is that games designed for PS3 system software v3.6+ are also supported. So if you're itching to play games that required firmware 3.55 or higher, True Blue will be able to play them.

However, in order to enjoy such titles, you must first obtain special "True Blue versions" which have been modified to function with True Blue. These will be labeled as being True Blue (TB) compatible. NO LINKS OR DISCUSSION ON HOW TO OBTAIN THESE WILL BE ALLOWED. Once you have obtained True Blue modified games, simply copy them to your PS3 internal or external USB HDD as you would with any usual jailbreak game and launch in the usual manner through any one of the many available backup managers. Also, some games will work discless, on the external or internal or work with multiple methods. Booting of games is the same as any other jailbreak method. Load up your MultiMan or your preferred program and load your games through the usual channel. NOTE: 4GB+ file(s) games won't run on external currently with True Blue.

Unfortunately, there is still no access to PlayStation Network (PSN). So all games played will be offline.

Conclusion : Overall, the True Blue JB2 USB Dongle for PS3 offers a great way to play 3.60+ games. Than again, its the only way...for now. In order to play these 3.60+ games, they must be compatible with True Blue. So if you have your own 3.60+ games that are on your HDD, you won't be able to play them unless you replace the EBOOT files. Of course, you'll have to have the knowledge of how to do so. Hopefully, there will be an update that allows the use of all games and not a special file. As each day passes, there are more and more games compatible with True Blue.



For more information and downloads, click here!


There are 0 comments - Join In and Discuss Here