August 15th, 2011, 16:02 Posted By: bandit


CONTEST IS NOW CLOSED. THE WINNERS ARE:

Jeff Gillespie
Cid Highwind
Anarion tar
Winners will be contacted via Facebook with instructions to provide mailing information. Make sure we are able to contact you or you forfeit your prize. Congrats! To everyone, be sure to follow us for the latest gaming news and reviews!
-------------------------------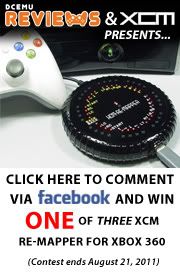 (See below on how to enter or click here to enter.)




It has been awhile since we had a contest. So we're back with a new contest! We have THREE (3) XCM Re-Mapper up for grabs!

To some, the Xbox 360™ controller is most arguably the best controller, but the button location may not be the perfect place for some games. In order to fix this, you may need to re-map some buttons that will suit your preference and gaming style. What if you're left handed and like to use the left LT as your shooting trigger and RT trigger for throwing grenades or even switching weapons? The XCM Re-Mapper allows you to re-map ANY button on a wired Xbox 360™ controller (except SELECT, START and Guide button) making gameplay that much easier, enjoyable and playable now.

*You MUST use a wired Xbox 360™ controller. XCM Re-Mapper will NOT work with wireless Xbox 360™ controller Play & Charge Kit.

Sponsor:
We would like to thank XCM for sponsoring this giveaway. You can also purchase this from Play-Asia or Amazon.com. You can read our full review here.



Be sure to subscribe and follow us on YouTube (dcemureviews), YouTube (dcemutube), Facebook and Twitter for more news and future contests!

How to Enter:
All you have to do is LIKE (
) our Facebook page and you MUST leave a comment on the contest post itself and you will be automatically entered. Commenting anywhere outside of Facebook, anywhere else on Facebook or other status posts will not be valid.




If you already are a fan on our Facebook page, no worries! Just leave a comment on the contest post. Only 1 entry per person. The contest ends August 21, 2011; 12AM EST and winners will be chosen randomly and first post will be updated with winners. Winners will be contacted through Facebook for mailing address. Failure to respond or being unable to contact the winner will result in forfeit of prize.

*DCEmu Reviews and DCEmu is not responsible for lost or damaged packages and/or electronic devices. All shipping of prizes are handled by XCM. Any concerns in regards to prize or shipping, please contact XCM at xcmcc@xcm.cc.



For more information and downloads, click here!


There are 0 comments - Join In and Discuss Here