March 3rd, 2007, 18:23 Posted By: bandit

M3 DS Simply Cartridge SLOT-1
Manufacturer: M3
Site:
M3 Simply Only: Buy from Divineo US / Buy from Divineo China / Buy from ConsoleSource / Buy from DealExtreme / Buy from VolumeRate
Price: $34.00-$49.99

M3 Simply with microSD: Buy from ConsoleSource (1GB) / Buy from ConsoleSource (2GB)
Price: $74.99-$124.99

Overview : M3 DS Simply is a slot 1 device (no passcard required) from the famous producer M3 Adapter. It uses Micro SD card for cheap and high capacity while fitting nicely in your DS/DS Lite. Its low price and strong built offers a great value!

Features :
The same size as an original DS cart
Build in PassMe (No need for boot card or anything else to boot )
Using Micro SD card (Trans Flash) as external storage . Cheap & variety usage.
Boot clean dump images
Super simple to use , drag and files over to the micro SD card.
No drivers required
Standard FAT system support.
Support different speed of micro SD card even the low speed SD card .Run games without any lag or slow down.
Upgradeable Firmware ( OS / Bios / Kernel )
Touch screen control & robust skinning support.
No need battery , back up the save file into the micro SD card directly .Never lose your save.
Auto detect the save type & automatic generate saver file.
Homebrew support , IO lib will release on launch.
Direct watch movie , listen MP3 & read TXT on the DS via the use of Moonshell.
Support WiFi , DS rumble pack & DS browser.

Quality/Usability : Alot of DS owners have been wondering what is the difference between the M3 Simply and R4DS (review). The M3 DS Simply and R4 are produced by the same manufacturer and have almost identical hardware and firmware (non-interchangable). There is no difference when it comes to functionality. The only difference is the sticker and packaging. The M3 Simply uses a MicroSD card to store all the necessary data, from ROMs and music to the operating system files. For this review, I tested it with a US Modular 1GB and PNY 1GB microSD. There are some online sites that sell the M3 with a microSD (usually 1GB) but price will be higher.

The M3 Simply includes two shells (white and black) but due to production costs, the M3 now includes only 1 shell (black) instead of two. The old packaging that included two cartridges was a bigger package in a blister pack (plastic). Now, the latest packaging just comes in a cardboard box. Included in the latest packaging are:

1 x USB microSD card reader
1 x White R4 SLOT-1 shell
1 x Mini installation CD
1 x Silicone DS cartridge keychain holder

The included installation CD has instructions and all the necessary files to set up the MicroSD card ready for the M3. I personally went to their forums to download the latest files. The included USB microSD card reader allows the user to connect it to the computer and be able to transfer files/data easily. The DS cartridge keychain holder lets you hold the M3 Simply shell on one side and another DS game on the other.

Setting up the M3 Simply is fairly simple. If you downloaded the latest OS from their forums, all you simply do is download the file, extract is and transfer the files onto the microSD and thats it. You may also use the included CD but its best to get the latest files from their forum as the CD may be out of date. The CD also includes helpful files such as a save converter which lets you convert saves from other flash carts to the format that M3 Simply uses. In their forums you may also download a ROM trimming tool.

The M3 Simply cartridge size is identical to that of the original DS cartridge. The microSD card is inserted through the top of the cartridge and fits flush with the cartridge. The M3 Simply microSD slot is spring loaded. Unfortunately, the spring mechanism isnt that good. When you press down on the microSD, the card is suppose to pop up. Although it does, it doesnt pop up much and feels like its stuck. Occasionally it does pop up completely. Luckily, there is a small groove on the M3 Simply cartridge allowing easy removal of the microSD card.

Adding ROMs and Homebrew is simple. Once you have the microSD card inserted into the card reader and the card reader connected to the computer, its a simple drag and drop. You'll need to setup a folder called "ROM" and "HOMEBREW" with files going into its respective folder.

The operating sytem (OS) is easy to navigate and easily skinnable. Upon startup, user is greeted with three options; GAMES, MULTIMEDIA and BOOT SLOT-2. When GAMES is selected, the file browser is located on the top screen. This is where all your selecting is done. To navigate through files or to select a file, you use the directional pad to move up and down. Too bad that you cant use the touch pad.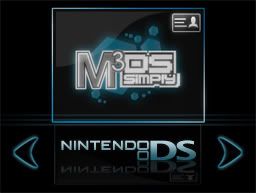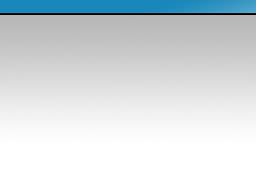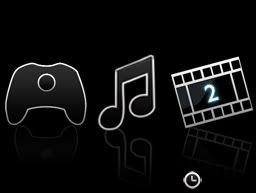 All it takes to change the look of the OS is four simple images and placing it into the "_system_" folder:
logo.bmp -- Background of the Top Screen of M3 Simply's startup.
icons.bmp -- Background of the Bottom Screen of M3 Simply's Startup.
bckgrd_1.bmp -- Background of the Top Screen of M3 Simply's Explorer.
bckgrd_2.bmp -- Background of the Bottom Screen of M3 Simply's Explorer.
Note:
Do not change the picture's name;
Make sure the picture is .bmp format, 8-bit/24-bit;
Make sure the picture is 253*192 pixels.

I have tested the M3 Simply with commercial ROMs of games I actually own. The M3 Simply worked perfectly with all the games I tested and tried. All games ran at full speed without any slowdowns and saving of games worked. WiFi also worked on games that supported this feature such as Mario Kart DS. Playing against others with only one cart or multiple carts worked flawlessly as well. There was no problem with connected to Nintendo's WiFi with the M3 Simply. For an updated list of compatibility list, go here.

Testing of homebrew worked flawlessly for most programs. There were only a couple that I encountered that did not work for me. I dont know if it doesnt work in general or I did something wrong.

M3 Simply includes Moonshell which allows you to play multimedia files on your DS. In order to watch movies, you must use DPG tools (PC Software) to convert the files to a format Moonshell will recognize. Playing a movies is a nice feature to the M3 Simply but the quality will not compare to that of the PSP. Playing MP3s is a nice addition as well and plays flawslessly.

Conclusion : Overall, the M3 Simply for DS is a great product. Booting of clean NDS games and homebrew work flawlessly. Setting up the OS and placing of files is done with a simple drag and drop method. The ability to customize the look of the OS is a neat feature. MicroSD prices have dropped dramatically within the past year. You can purchase a 1GB for as low as $10! To find the best deals, visit our Online/Store Deals.

Now the question everyone wants to know is, which one is better? There is no answer. Both are identical in everyway when it comes to functionality except for the external look. It pretty much comes down to which shell color do you want (black - M3 Simply / white - R4DS) and price (if there are any deals).

*UPDATE*

You can also download the latest files HERE.

Please note that none of the "upgrade" products listed in this site are endorsed by Nintendo, Sony and/or Microsoft. DCEmu Reviews and DCEmu Network does not condone piracy. The primary functions of a "modchip" and/or "flashcart" are to allow you to play imported games and homebrew software that you legally own or simply just for experimenting with hardware. We in no way endorse piracy, and encourage all users to do the right thing and support the developers/manufacturers that support them. We do not take any responsibilities for any use outside of these parameters or where the use of such a device is illegal.

Images via comments



For more information and downloads, click here!


There are 2 comments - Join In and Discuss Here