January 8th, 2011, 18:29 Posted By: bandit

4-Port USB Hub SD Card Reader Slim
Manufacturer: N/A
Site: Buy from LighTake
Price: $8.60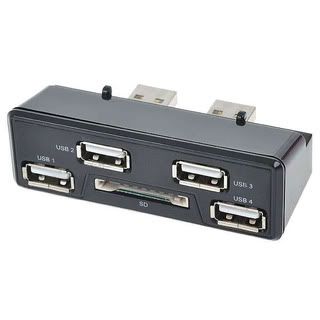 Overview : This item is only suitable for Sony PS3 Slim; it has two USB interfaces, four USB ports and one SD card slot, really a useful and multifunctional item.

Features :
Dedicated to expand the USB port of the PS3-Slim console and also enhance its card reader functions
It looks exquisite and is quite convenient to use
Just insert two USB plug into the corresponding USB interface of the console, and then you can use it
In addition, when playing games, you can insert and charge four original controllers simultaneously
Also, you can insert the SD card into the SD interface to use on the PS3-Slim console
It is very easy, convenient and indeed a necessity for gamers
Quality/Usability : Whenever there is a new smaller model of the console, not only is cost of manufacturing cheaper but somethings are also removed to keep costs down. In the case of the PlayStation 3, the Phat version (earlier models) started off having 4 USB ports and a card reader. With the PS3 Slim, its down to 2 USB ports and no card reader at all. With 2 USB ports, there is not much you can do if you have to charge more than 2 electronic devices.

In comes a 4-port USB Hub with SD Card Reader for the PS3 Slim. Since the PS3 Slim only has 2 USB ports, the hub occupies both ports. Essentially, you're only gaining 2 additional USB ports. The SD card slot allows you to view and/or transfer music, video and pictures. Unfortunately, you still can not charge your controller or electronic device through USB unless the PS3 is fully turned on. No more wire mess or tangled wires since the hub blends in with the PS3 Slim pretty well.

The USB hub does not fit completely in the PS3 Phat as the bottom of the PS3 Phat (when laid horizontal) gets in the way. If it did fit, the 3rd USB port is blocked, leaving only the 4th USB port free to be used.

Instructions :
First ensure that your PS3 Slim console is powered off.
Insert the 4-Port USB Hub SD Card Reader Slim into the USB port on the console, and the buckle position is upward, press it gently and pull outward when removing it.
When using the USB cord to power your PS3 wireless controller, please give priority to use the USB 1 interface.
You can have multiple USB controllers plugged in during a game.
When using the SD card reader, you can store file(s) inside the SD card onto the PS3 Slim console. You can also copy the file(s) onto the SD card.
Conclusion : Overall, the 4-Port USB Hub SD Card Reader Slim adds 2 additional USB ports and a SD Card Reader to the PlayStation 3. PS3 Phat owners do not need to look at this since there is no need for this. This is a great addition for those looking for additional USB ports without wires coming out of the USB port. The USB hub is perfect for Rockband and Guitar Hero gamers looking for additional USB ports. It would have been nice if it only occupied 1 USB port leaving the 2nd port free for additional use. 2 additional USB ports may not be much but its 2 more than what you had before.

Images via comments



For more information and downloads, click here!


There are 2 comments - Join In and Discuss Here