June 7th, 2011, 20:33 Posted By: bandit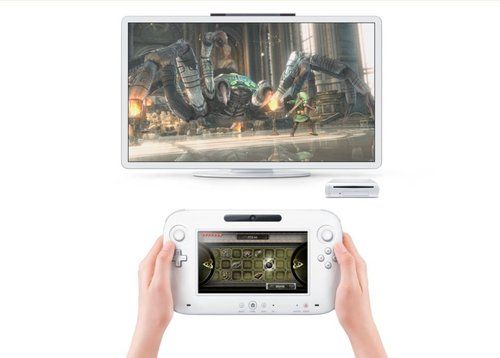 Nintendo took the wraps off its newest home game console and the successor to the Wii. It's called Wii U and it offers the 1080p HD graphics capabilities Nintendo fans have long been hoping for, as well as a controller that features a 6.2-inch touchscreen.

Nintendo showed off the machine and its new controller at a press conference kicking off this week's video game extravaganza known as the Electronic Entertainment Expo (E3) taking place in Los Angeles.

"It's a system that we will all enjoy together but also is tailor-made for you," said Nintendo of America president Reggie Fils-Aime. "It's different from anything you've played before. It can change the way you game personally and it can chance the way you play with your family and friends."

Nintendo president Satoru Iwata told the audience that Wii U will be compatible with all other Wii accessories — the Balance Board as well as the Remote and Nunchuk but will also use the new controller.



A few details about the new controller: It has a 6.2 inch touchscreen, gyroscope and accelerometer for tilt control, it's got full traditional Nintendo stick and button controls on either side of the screen, triggers on the back, a microphone, speakers and an inward facing camera.

Nintendo has not revealed many of the details about the Wii U console itself, but Nintendo reps have said that the console itself comes with internal flash memory that can be upgraded with SD cards and other USB solutions and that it plays proprietary high-density optical discs and will access downloadable content as well.

In a video displayed at the press event, Nintendo showed off how the touchscreen controller can offer players two different perspectives on the same game. You can get one perspective on the action from your TV screen or a completely different perspective on the controller screen.

You can use both the TV and controller screen at the same time, or you can play a game on the controller without using the TV at all … though Iwata told the audience that the controller is not meant to be a portable game machine that can be played away from the console.

Iwata told the packed audience that Nintendo's goal has been to get rid of the divide between gamers and non-gamers and to erase the boundaries that divide players by age and gender. And he said that, with the Wii and DS, the company has made strides in that direction.

But he pointed out that not all divides have been erased with some game hardware (say, the Xbox 360 and PS3) being seen as accessible only to the most passionate players while the Wii has been perceived as being for more casual players.

"As an industry, what we haven't achieved yet is a game machine that is equally satisfying for all players," he said. "Yet this is exactly what we intend to create with our new home platform. The new platform will provide deeper experiences than even the most passionate gamer has experienced and wider experiences than even the Wii has delivered. It will let everyone see games in a different way."

Source: MSNBC



For more information and downloads, click here!


There are 0 comments - Join In and Discuss Here