October 9th, 2007, 00:45 Posted By: bandit

PSP Slim & Lite Component Cable
Manufacturer: N/A
Site: Buy from GameInfinity
Price: $14.95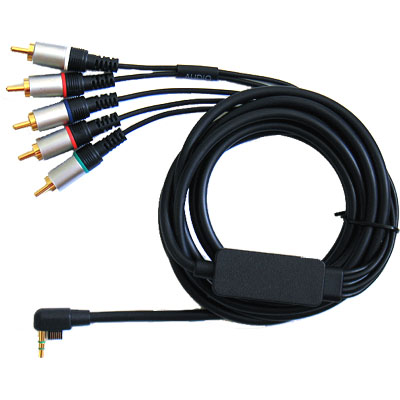 Overview : PSP Slim & Lite Component AV Cable allows to display videos, photos and play music as well as games on TV.

Features:
Enables AV output via Component
Cable length: 2.5m
Aluminum alloy housing cuts out any unwanted RF signals.
Suitable only for the new Slim Series (PSP-2000).
Allow you to display videos, photos and play music as well as games on TV
For playing games, a TV with progressive scan support is required
Quality/Usability : One of the nicest additions to the PSP Slim & Lite is the video-out function that enables you to watch video, play games and view photos from your PSP on to your TV.

Following on the heals on newly released consoles are 3rd party manufacturers. The moment something new comes out...BAM! They already have products at online import stores/wholesalers. When the PSP Slim & Lite was released, component cables were hard to come by as some stores didnt receive any in stock.

The quality of the cables are decent. The biggest complaint about the PSP's video-out feature is that in order to play games, you'll need a TV that has progressive scan. If you dont have a progressive scan compatible TV, you'll be left with only looking at videos and photos.

Once you have selected the PSP's output setting, the image displayed on the TV does not fill it completely but is bigger than we expected. On my 32-inch LCD, it measured approximately 22-inches. Although this can be bothersome or nitpicking to some, once we got into the gameplay, we didnt really notice the size of the display compared to the TV.

Images were a little different and washed out compared to that of what is shown on the PSP screen. Taking a small image that is use to being displayed on the PSP's screen and blowing it up onto a monitor, you'll notice the jaggies on objects and textures. This is probably due to the fact that you're also sitting close to the TV as the length of the cable isnt really long to begin with.

Conclusion : Overall, the PSP Slim & Lite Component Cable works well for an aftermarket product. Colors and images could use better quality. The noticeable jaggies was expected since you're scaling up an image. The price tag of $14.95 is fairly reasonable as its only $5.00 less than the official cables.

There is also a video showing the XCM 1080p VGA Box allowing you to hook up the PSP Slim component cable and be able to play on a VGA monitor. You can read the news here and our full review on the XCM 1080p VGA box here.

Images via comments



For more information and downloads, click here!


There are 7 comments - Join In and Discuss Here