October 4th, 2007, 04:45 Posted By: bandit

Wii Wireless Sensor Bar
Review by: TrialSword
Provided by: DCEmu Reviews
Manufacturer: Dragon
Site: Buy from GameInfinity
Price: $9.95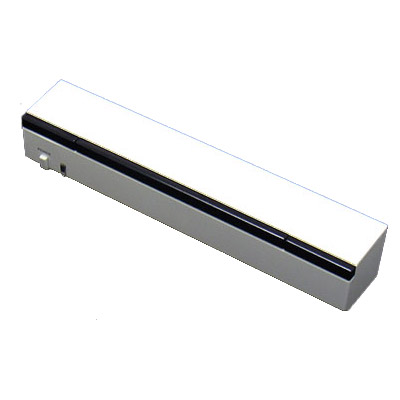 Overview : Experience the freedom of wireless gaming with wireless sensor bar for the Nintendo Wii. This wireless Wii remote receiver can be placed anywhere in the room for cable-free gaming up to 25' away.

Features:
Infrared technology detects pointer and motion movements up to 25 feet away
No wires of any sort are needed
6 AA batteries provide hours of use (not included)
Perfect for home theater setups with wall mounted TVs or complicated cabling
Dimension: 9 inch x 1.6 inch x 1.6 inch
Quality/Usability : A nightmarish jungle of wires and plugs plague the back end of any home entertainment center with multiple components, and if you're like me you'd love to alleviate the problem at any opportunity. The Wii's wireless remotes are a lot of fun to wave around, but the sensor bar is tethered to your Wii by a thin wire, yet another addition to your teeming throngs of black cables. The solution here is simple, a wireless sensor bar to match your already wireless controllers! Game Infinity provides such a solution, but is it more trouble than it's worth?

Just at a glance, there are a few notable differences between the stock wired sensor bar and this wireless bar. For one, it's much, much larger. About three times the height and twice the depth of the original. The IR sensors rest at the top, and the power button and power LED lay under it. Why all the extra real estate? The answer is batteries. This baby takes SIX AA batteries to operate. That's right, six batteries. It all seems like way too much and for some might be a dealbreaker.

I used the wireless bar for a number of functions, including the Virtual Console, Wii games and web browsing. The bar did its relatively simple task rather well, and I didn't lose any signal or run out of battery for the 6 hours I used it for this review's purposes. Metroid Prime 3 and Warioware, 2 motion heavy games, performed excellently, with no difference in performance between the wireless bar and Nintendo's original. There are some gripes, however, most notably the size of the bar making its options for positioning far more limited. Some flat panel TV's will simply not be able to support the sensor bar on top. If the TV is mounted to a wall you'll be hard pressed to find a decent location, unless there's a stand below it. Another problem is the power LED. It shines a bright blue when the power is turned on, making it quite distracting.

Conclusion : Overall, as far as a wireless sensor bar goes, I can't help but feel like they could have made it much smaller, less intrusive, and less power consuming. Six AA batteries seems like way too much and makes it way too big. It performs well, though, and if you absolutely need it to be wireless, e.g. the Wii is far away from the TV or you have a projection setup, it's not bad, especially for the low price tag.

The Good: Performs well, is wireless, design matches Wii colors
The Bad: Takes six AA batteries, large size makes it difficult to place in some circumstances, distracting power LED
The Bottom Line: Unless you REALLY need a wireless setup, I'm not sure it would be worth the trouble with Game Infinity's wireless sensor bar, though the low price makes it tempting.



For more information and downloads, click here!


There are 0 comments - Join In and Discuss Here