December 20th, 2010, 21:53 Posted By: bandit

P3Free Max-Pic USB Trainer Board
Manufacturer: Max-Pic (by Wii-Clip)
Site: Buy from LighTake / Buy from IC2005 / Buy Max-Pic + Serial Programmer from IC2005 / Buy Max-Pic + Max-Prog Add-On from IC2005
Price: $39.90 (Max-Pic) / $49.90 (+ Serial Programmer) / $49.90 (+ Max-Prog Add-On)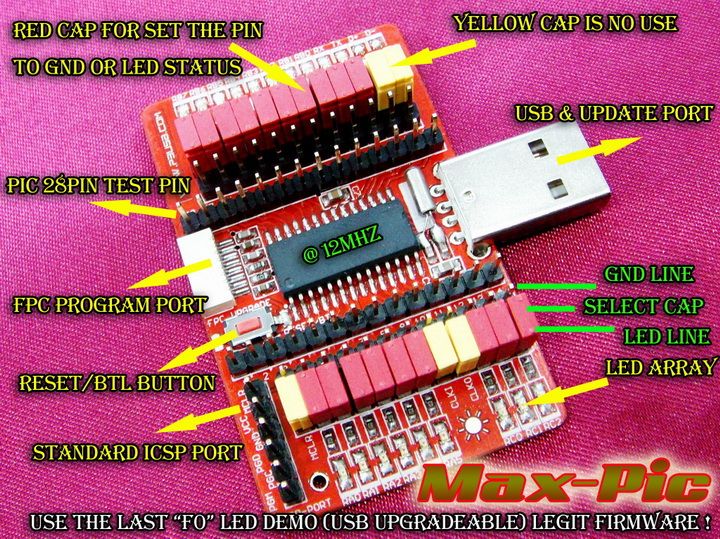 Overview : The last Max-Pic is one very powerful universal PIC trainer board for every firmware and work at 12Mhz! THIS DOES NOT WORK ON FIRMWARE 3.42 OR ABOVE UNTIL A NEW EXPLOIT/METHOD IS FOUND!

Specifications :
Use PIC18F2455/2550 MCU chip
Comes with HID Boot Loader, you can upgrade via USB port directly
Comes with the 8pin FPC port,you can program any compatible firmware to PIC chip via FPC programmer
Comes with one standard 6pin ICSP port, you can program any compatible firmware with any ICSP programmer
Comes with one RESET/BTL combo button, can use to reset the PIC or enter BTL mode for upgrade
Comes with 28pin testing pin, very easy to link to the PIC chip with every pin and test
Comes with 24 pin selector array, you can set almost PIC pin to LED status or pull down to GND
Comes with 19 LEDs display array, you can see these pins working status
Comes with the last "F0" LED demo firmware
Quality/Usability : The Max-Pic is not your average and normal looking PS3 USB Jailbreak dongle. The Max-Pic is actually a PlayStation 3 jailbreak device and much much more. Not only can you jailbreak your PS3 with ANY .hex file, but you're also able to reprogram the Pic-Fun (if it ever gets corrupted), use it as a Xbox 360 SPI NAND flasher (more info below) and for various USB/LED projects that you may have.

The quality of the dongle is very well made. Even if you were to screw up and corrupt Max-Pic, you can reprogram it and fix it. With other jailbreak dongles, you're unable to do this.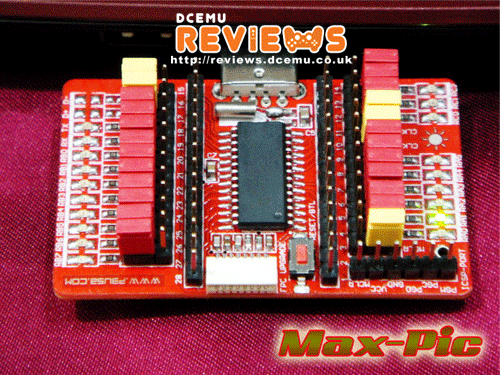 Required Files :
How to Update Max-Pic :
Insert Max-Pic into USB port of your computer
Now just press the RED RESET/BTL button once which puts the Max-Pic into bootloader mode
P3Free Updater should detect your kit
Click the "Open Hex File", select the right HEX and open it
Now click the "Program" button, when you see "Verify Started", then mean it's upgrade complete
You should see the Max-Pic will auto reset and start to run the LEDs demo code
All done!
How to Softflash Pic-Fun and Max-Pic : (courtesy of frankreynolds1)



How to Hardflash Pic-Fun and Max-Pic : (courtesy of frankreynolds1)



If for whatever reason that your Max-Pic no longer works, you can use the Serial Programmer to reprogram it. The instructions are as follows:

Click here to download the PICPgm v1420 PC program

How to program ANY firmware to your Max-Pic :
[1] Insert the Serial programmer to Serial Port of your PC and click the "Search" button, to see if it can find programmer or not.
If can't auto detect, then means your serial port has a problem. Please check it or change to another PC and try again, until to it can auto detect JDM hardware.



[2] Now link to your PIC kit and click the "Search" button again, it should can auto detect the PIC chip.
If not, maybe you insert the FPC cable in a wrong side.



[3] When everything is ready, click the "Browse" button to select Bootloader_USBHIDC18_P3Free_V1.0_12MHz_BTL-pin1_MCLRon_LVPoff_F0_Version.hex.



[4] Then click the "Program" button



[5] It will start to burn and the progress bar will stop to respond, it may seem like it froze but its still programming.



[6] After program complete, this green window will show 3 seconds and auto close, now the new firmware is ready for test, all done!



But not everyone has a serial port on their PC. So the Max-Pic (P3Free) team has released a Max-Prog Add-On which attaches tot he top of the Max-Pic and a Max-Prog 2-in-1 which is a Max-Pic and Pic-Fun together. This connects on top of the Max-Pic.

Conclusion : Overall, the P3Free Max-Pic USB Trainer Board is a very powerful USB device that can do many things. Not only can it be used for jailbreaking the PS3 and fixing Pic-Fun dongles, it can also be used as a Xbox 360 SPI NAND flasher (more info here). If you're into USB development, this would also be great for your USB/LED projects. Even if you're trying out stuff for the PS3, this would be the perfect board to try all your experiments without the fear or damaging your dongle. However, if using this on a PS3 as a jailbreak device, there are many other options available. The size of the dongle is very big in width and will cover other USB ports on the console. To "fix" this, you'll need a USB extension cable.


Please note that none of the "upgrade" products listed in this site are endorsed by Nintendo, Sony and/or Microsoft. DCEmu Reviews and DCEmu Network does not condone piracy. The primary functions of a "modchip" and/or "flashcart" are to allow you to play imported games and homebrew software that you legally own or simply just for experimenting with hardware. We in no way endorse piracy, and encourage all users to do the right thing and support the developers/manufacturers that support them. We do not take any responsibilities for any use outside of these parameters or where the use of such a device is illegal.

Images via comments



For more information and downloads, click here!


There are 0 comments - Join In and Discuss Here