December 14th, 2010, 23:50 Posted By: bandit

PlayStation Eye Camera Mounting Clip
Manufacturer: PDP
Site: Buy from Amazon
Price: $9.99-12.99

Cheaper alternative ($5.81):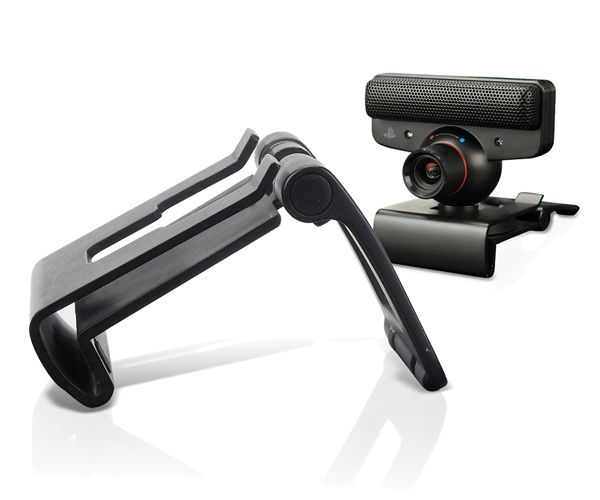 Overview : The officially licensed PS3 Eye Camera Mounting Clip conveniently mounts the PlayStation Eye camera on flat panel televisions. The clip holds the EYE camera in perfect position for Move gameplay and features a wide range of adjustable settings for various flat-panel HDTV shapes. The Mounting Clip is easy to use straight out of the box with no need to use any adhesive. PlayStation Move and PlayStation Eye Camera each sold separately.

Features :
Adjustable to fit variance among monitor profiles
Clip holds your PS3 Eye Camera securely in place
Mounting Clip is officially licensed by Sony
Quality/Usability : With all the new TV's and monitors on the market, they are no longer thick or even have a flat top. So trying to put a device on top would be hard. PDP (Peripheral Designed Products) has released a product to solve this problem and its officially licensed by Sony.

The top has a clip that allows you to slide the base of the PS3 Eye Camera in and secures it in place. An "arm" folds down and can be adjusted to any size based on the size of your screen. The "arm" clicks into place so you won't have to worry about it moving and causing your camera to fall off. It also acts as a prop if the back of your display slopes. The bottom has rubber padding to prevent any slipping and to provide some grip when placed on top of your display. The mounting clip can be used on rear projection, LCD and Plasma TV. It's even able to work with newer, extra slim TV's such as LED.

However, if your TV is wall mounted, depending on how much room you have between the back of the TV to the wall and how thin the TV is, it may not fit.

You can even use the PS Eye Mounting Clip to be used with Microsoft's Xbox 360 Live Vision Camera and Microsoft's new Kinect. The 360 Live Vision camera's base is slightly thicker so the clip will be raised slightly higher. For the Xbox 360 Kinect, it wont fit in the clip but it would provide a flat base for the Kinect to rest on. This is a cheap alternative if you're not looking to spend over $40 for a Kinect compatible stand. If you use this for the Kinect, just remember to add some tape or something to secure it so it does not fall when you're jumping up and down.

Since you can use the PlayStation Eye Camera as a webcam, you can use the clip on your laptop/netbook as well.

Conclusion : Overall, the PlayStation Eye Camera Mounting Clip is a must have if you own a flat panel display. This is the perfect solution for a clear look and for a clutter-free space. The price of the mounting clip is very affordable and won't make a dent in your wallet.

I also like the fact that the Xbox 360 Live Vision camera fits and you can use the clip as a platform for the Xbox 360 Kinect to rest on. Just remember to secure the Kinect to the mounting clip with tape or something as the Kinect's base does not fit inside the clip.

A cheaper solution would be aftermarket product from LighTake.

Images via comments



For more information and downloads, click here!


There are 0 comments - Join In and Discuss Here