October 1st, 2010, 20:21 Posted By: bandit

AVRKey AVR Key USB PSGroove Dongle
Manufacturer: AVRKey (by PS3Key)
Site: Buy from AVRKey Distributors
Price: $49.99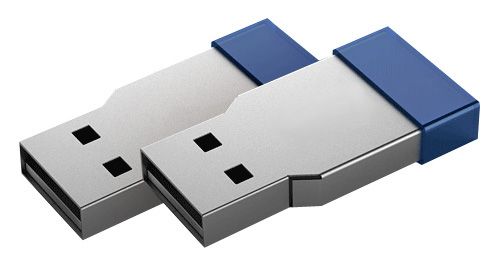 Overview : The AVRKey is PS3Key's open source solution similar to that of Teensy's and AT90USB's. It will not break your warranty seal and is compatible with all PS3 models, both Fat and Slim. Easy-to-use software for backing up, managing, and playing games from external USB Hard Drive. The AVRKey will supports installing homebrew application on PS3 and external USB media. AVRKey supports PSGroove .hex files. THIS DOES NOT WORK ON FIRMWARES 3.42 OR ABOVE UNTIL A NEW EXPLOIT/METHOD IS FOUND!

Requirements :
PS3 Console (fat or slim)
Console (firmware) version 3.41 only
Remove all discs from the drive
Do not connect any devices to the console via USB
IMPORTANT: The console must be completely switched off before using AVRKey. For fat versions, use the switch at the rear. For slim versions, simply remove the power cable. This is extremely important for the process to work correctly when you start the console.
Features :
USB Plug and Play solution that installs in seconds without any need to open up the PS3.
Does not break your warranty seal.
Compatible with all PS3 models*, both Fat and Slim.
Supports all regions: USA, JAP, PAL and KOREA.
Fully updatable via USB on your PC using an encrypted bootloader
32KB onboard flash (most competing products only have 16KB flash)
Disables forced software updates and will never brick your console.
Supports most games and homebrew applications.
Easy-to-use software for backing up, managing, and playing games from external USB Hard Drive.
Playing games from HDD is much more enjoyable, benefiting from greatly enhanced seek and loading times.
Supports installing homebrew application on PS3 and external USB media.
AVRKey are shipped blank allowing you to install your own .hex files.
* Currently not compatible with 3.42 firmware
Quality/Usability : Also read our PS3Key review.

There has been a lot of confusion between consumers and retailers since retailers are naming it AVR PS3Key or something along those lines. So lets start off by clearing the confusion. AVRKey and PS3Key are made by the same people, both look identical and both use the same hardware but are BOTH different products. The BIG difference between the two is that PS3Key comes shipped with their own proprietary firmware (.upd) file, own software that reads/loads .upd files. AVRKey are shipped blank...as in nothing. With AVRKey, you install your own HEX files (.hex)..the same files as PSGroove.

IMPORTANT : PS3Key comes with YELLOW sticker. AVRKey comes with GREEN sticker. This is how you will know what you received.

The AVRKey comes in an anti-static bag and on this bag is also a GREEN sticker. This sticker is your serial number and verification string. Unfortunately, there is no URL to enter this to see whether or not it is authentic or whatever the real purpose of it is for at the moment. Entering the serial and verification string at http://www.ps3key.com/en/validate/ will result in an error. This goes to show that AVRKey and PS3Key are two different products.




The AVRKey is housed in a metal casing that looks exactly like PS Jailbreaks and PS3Key. There is also no writing or logo on the housing to prevent any problems with distribution. I personally would have liked AVRKey printed on it as it is a USB development board and is shipped blank. This also distinguishs the difference between AVRKey and PS3Key. The AVRKey measures approximately 1.25" (length) x 0.50" (wide). On the end of the dongle is a blue rubber cap. This protects the board from being exposed and prevent dust and other particles from entering as well as softens the brightness of the LED lights. Like PS3Key, AVRKey dongle is running on ATMEL MEGA32U2 (ATMEGA32U2) and is upgradeable via USB port. When I first received my AVRKey, the USB board was bent. It could not be inserted into a USB port on my computer. So I had to take off the blue rubber cap, pull back on the 2 pins (they are very fragile and can break off if played with too much) and pull the board out. When the soldering was done to the USB and chipset, it was not leveled. I had to bend the USB down so that it was leveled with the board. I was afraid I would break it but didnt. Put it back into the metal housing, slowly closed up the pin and put back the rubber cap.

Instructions on How to Load HEX Files :
Required files:Before you start, download ATMEL's FLIP software via link above (at time of review, AVRKey's GUI program was not available. Review will be updated when available). To get the AVRKey into Update Mode, you must perform the same method as the PS3Key, which is remove and insert the dongle 3-4 times in your computers USB port. When it enters into update mode, the red and blue LEDs will be lit up on the dongle and you will be shown this image:



In order for the AVRKey to be recognized, you need to have driver installed. Click on "Locate and install driver software (recommended)"



To locate the driver, click on "Browse my computer for driver software"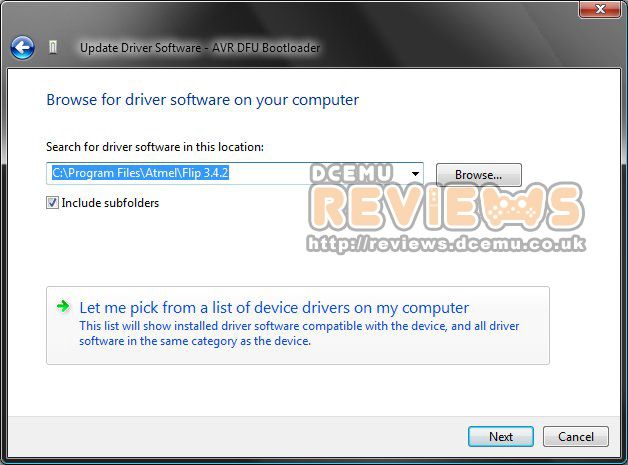 Once you have FLIP downloaded, browse to where FLIP is located on your computer.



Windows Security may pop up with a warning message saying it can not verify the publisher. Ignore this and click on "Install this driver software anyway"



Once completed, you will get this screen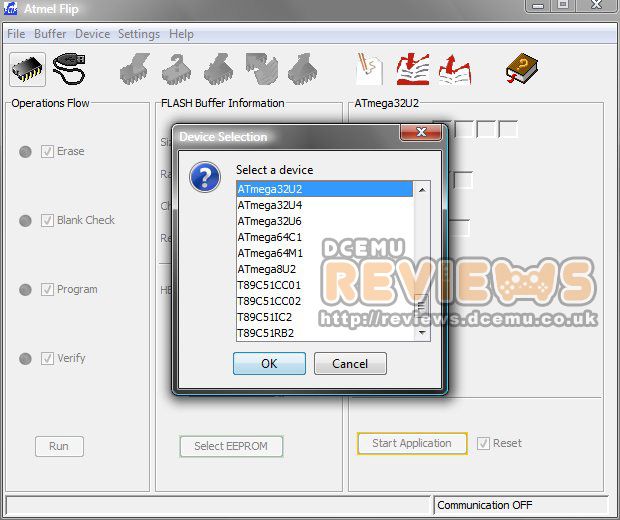 1. Start the FLIP program and click on 'Select a Target Device' (image of PIC chip next to USB cable).
2. A new window will show up showing a bunch of devices
3. Select "ATmega32U2" and click "OK"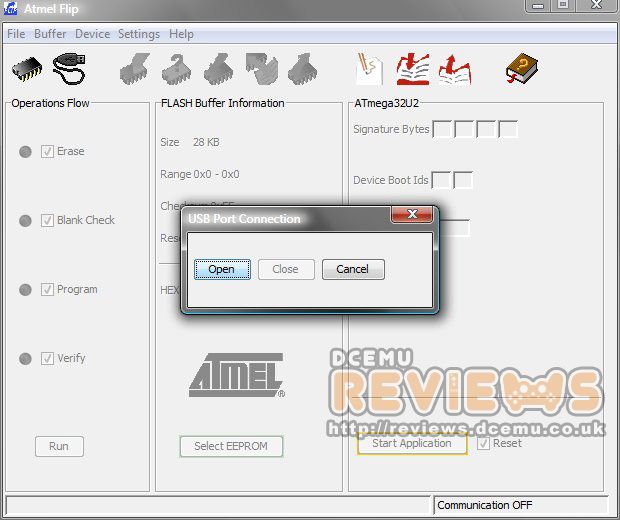 1. Click on 'Select a Communication Medium' (image of USB cable) and a drop down will display
2. Click on USB and a new window will open.
3. Click on "OPEN"



1. Click on FILE and "Load HEX File..."
2. A browser window will open and locate where you saved your HEX file.



Click on RUN and the program will start to load the HEX and update the AVRKey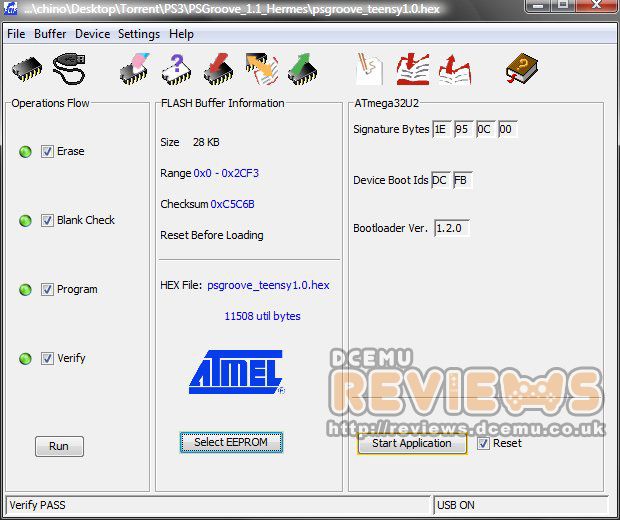 When completed and successful, the bottom status bar will say "Verify PASS". Remove dongle and insert into PS3.



Operation :
Once the power to your console is completely disconnected:
Turn on the console (PS3 Fat with the switch, PS3 Slim connecting the power cable)
Insert AVRKey into a USB port on the PS3.
Start up the PS3 and press the EJECT button.
If the above process worked, there will be a link to "Install Package File" in the game menu.
In order to make sure the AVRKey dongle worked flawlessly, I had to uninstall all my homebrew applications that I had originally installed. To install applications or any homebrew applications, you will need to download and save the .pkg files to a USB drive such as thumbdrive or harddrive. To install, simply insert USB drive to the PS3 and navigate to "INSTALL PACKAGE FILES" on the XMB under GAME. Select the file you want to install by pressing X and it will automatically install the file. All applications installed and loaded without any problems.

There are no other files or programs available to download from www.avrkey.com. Since AVRKey uses PSGroove .hex files, I don't think there will be much released from AVRKey's website. As of 10/1/2010, PS3Key has released an "open" version of the PS3Key firmware as a HEX file which can be used with other generic USB dongle devices and can be downloaded at http://www.ps3key.com/en/members/downloads/.

Conclusion : Overall, the AVRKey AVR Key USB PSGroove Dongle is a great alternative to the Teensy's or AT90USB's...and probably better looking. The dongle is compact and light in weight. What's great is that you can install any HEX file whether it be PSGroove's (Teensy) or PS3Key's "open" version. But is a bit pricey. The AVRKey is priced the same as that of the PS3Key. My only complaint is that there is no logo or indication that its a AVRKey. It looks completely identical to the PS3Key. If you were to remove both from its anti-static bag and mix them up, you wouldn't know which one is which until you inserted it into the PS3 or computer. Depending on the HEX file and how it was compiled, there may not be any LEDs lit up that changes from red to blue to let you know it loaded successfully upon PS3 boot up. If you install PS3Key's "open" version (http://www.ps3key.com/en/members/downloads/), LED will be enabled.

Please note that none of the "upgrade" products listed in this site are endorsed by Nintendo, Sony and/or Microsoft. DCEmu Reviews and DCEmu Network does not condone piracy. The primary functions of a "modchip" and/or "flashcart" are to allow you to play imported games and homebrew software that you legally own or simply just for experimenting with hardware. We in no way endorse piracy, and encourage all users to do the right thing and support the developers/manufacturers that support them. We do not take any responsibilities for any use outside of these parameters or where the use of such a device is illegal.

Images via comments



For more information and downloads, click here!


There are 9 comments - Join In and Discuss Here