December 4th, 2010, 21:32 Posted By: bandit

Original PS Jailbreak PSJailbreak USB
Manufacturer: PS Jailbreak / PS Downgrade
Site: Buy from HolidayCarts


Price: $99.00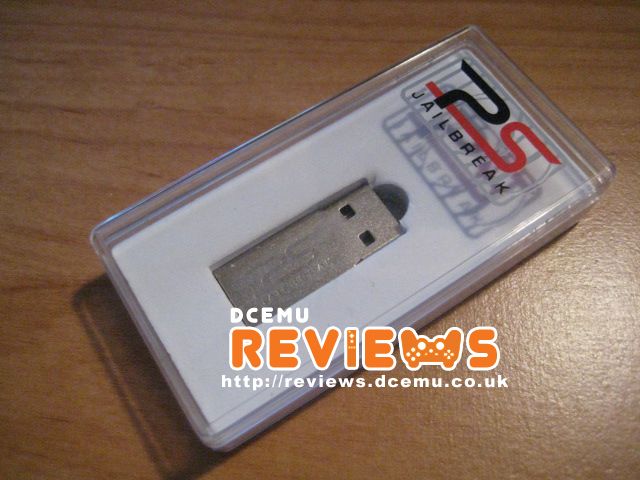 Overview for PS Jailbreak : The worlds first PS3 Modchip is here — PSJailbreak! Using just a USB drive and a software exploit, the PS Jailbreak apparently does what so many have tried doing before it: allowing homebrew software — to run on the PS3. It only works on 3.41 firmware.

Only the original PS Jailbreak will support official new features and software exploits, don't get caught out with a clone, buy the original real deal today! THIS DOES NOT WORK ON FIRMWARE 3.42 OR ABOVE UNTIL A NEW EXPLOIT/METHOD IS FOUND!

PS Jailbreak is also capable of downgrading. PSDowngrade is FREE and unlimited with all PS Jailbreaks! You MUST have an original PS Jailbreak to use this software. Each dongle has a special serial number that is verified during the process of downgrading.

Specifications :
PS Jailbreak is a USB plug and play solution that installs in seconds, keeping your valid warranty seal in tact.
Easy to use installer and GUI takes you step by step.
Compatible with all production models FAT and SLIM. Supports all regions: USA, JAP, PAL and KOREA
PS Jailbreak disables forced software updates and will never brick your console.
Supports all games (it does not allow backups of Blu-Ray movies, DVD movies or past consoles games)
Backup games to your internal hard drive or external hard drive through USB, and boot directly off GUI. Eliminating the need for expensive Blu-Ray burners and costly blank media.
Play backups off your hard drives 2x as fast as off the Blu-Ray drive. This eliminates lags and glitches to provide you with smoother game play.
Open up your console to a new generation of homebrew applications. Load homebrew apps/games off any USB hard drive/flash drive.
Fully updatable with new features/updates by connecting PS Jailbreak to any computers USB port.
Quality/Usability : I will be splitting this review into two parts. First part will be about the PS Jailbreak itself and the second part will be about the PS Downgrade.

PS Jailbreak is the pioneer and the reason why we have the ability to jailbreak our PS3's. I won't get into who found/started what but PSJB was the first to bring the product to the market/scene. They have gone through a lot of criticism, heat, not to mention Sony's MIB team (lawyers) and lawsuits. Some resellers got burned as well due to Sony winning a court junction and seizing all PS Jailbreaks. However, that has not stopped resellers or PSJB. They are back and stronger with new features. If you've seen or know about how jailbreaking a PS3 works, this is nothing different. Don't forget where PSGroove/PSFreedom got it from.

But of course, once there is a hot product, the flood gates of clones start to appear. The PS Jailbreak that you see online from reputable new sites were "betas" and eventually clones started to use the same casing to pass off as authentics. The final product still looks exactly the same but there are some slight differences. The authentic and final version does not have a cutout on the top of the dongle (as shown below). Also, the PS Jailbreak logo is no longer printed on the dongle, rather it is now etched onto the metal casing and the opening in the back is now sealed with clear epoxy. But of course, if you purchased a PS Jailbreak and it costs under $80, you just bought yourself a clone.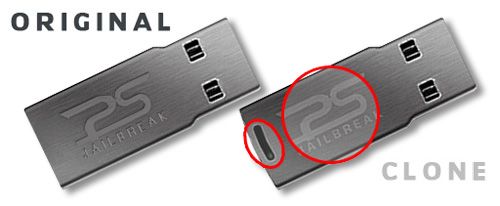 Requirements for Jailbreak :
3.41 firmware must be installed on the console
*Please Note: If you want to increase the size of your internal hard drive make sure to do it before upgrading to 3.41
Download Backup Manager or homebrew applications/games and copy it to any external USB storage device formatted with FAT32.
Operation :
The console MUST be fully OFF (NOT in STANDBY mode) before connecting the USB PS Jailbreak. Depending on the console version you MUST:

PlayStation 3 - FAT. Just turn off the console from the rear switch.
PlayStation 3 - SLIM. It is essential to disconnect the power cord from the back of the console.

Connect PS Jailbreak to any USB port on the console, taking care not to have anything else connected by USB.
Press the POWER button on the console and then pressed the EJECT button. You will see the two LEDs on the PS Jailbreak illuminate while powering ON the console (10 seconds), then one of several things can happen:

- The Green LED is lit. This means that the PS Jailbreak is working properly.
- The Red LED is lit. This means that the PS has not loaded correctly Jailbreak. Usually this happens when not properly pressed Power sequence and then Eject.
- If the end result is the bright Red LED, we repeat the process from the beginning with the precaution of disconnecting the power cord from the back of the PlayStation 3 Slim or cut the current from the switch at the back of the PlayStation 3 Fat.

Once PS Jailbreak the device is loaded correctly, connect the USB external storage device with the Backup/Open Manager or your homebrew applications/games to the console.
Go to the GAME menu and then to the option "Install Package Files", select your Backup/Open Manager or your homebrew applications/games.
Once install is completed, at the end of the Games menu, your installed files will appear. Select it and run.
If you chose Backup/Open Manager, follow the instructions of the manager.
Even though PSJB is the pioneer of PS3 jailbreaking, they are the slowest in releasing updates. With releases of Hermes and KaKaRoTo PL3 payloads, PS Jailbreak had nothing. No updates with the latest payloads or even of their own. They left PS Jailbreak owners waiting or even having to spend additional money to get a USB development board just to have the latest payloads. While people were able to go on PSN (before Sony blocked that exploit), PS Jailbreak owners had to sit and watch. This also goes for their Backup Manager. Once developers found out how to reverse engineer and make their own, PSJB team just sat there. When the team did finally release an update to Backup Manager 1.1, we all thought it was going to be groundbreaking and something totally new. Instead, it was a complete dud with no new features or anything jaw-dropping.

Conclusion : Overall, the Original PS Jailbreak PSJailbreak USB is the first USB jailbreak device for the PlayStation 3 and opened the gates to what we have now. But the lack of support such as updates for the PS Jailbreak dongle, Backup Manager and constant delays really hurt its reputation. The price point also hurt them because not many people wanted to spend $100+ when they can simply purchase a USB development board for under $35 and get the latest support from other developers. I can justify spending $100+ if there was constant support and updates. The engineering department are smart and I give them the credit but their marketing strategy isn't. The specification above states that it supports all games. At the moment, it does not but this also goes for the open source PSGroove. Disables forced software updates? Not really.

If I start to see more coming from the PSJB team, I can justify spending $100. But in its current state with rarely any updates to help with compatibility with games and lack of update to their Backup Manager, I'd stick with PSGroove. But now that PSJB released PSDowngrade, this helps ease the pain of having to spend $100, if you're in need of a downgrader and a jailbreak device.


Please note that none of the "upgrade" products listed in this site are endorsed by Nintendo, Sony and/or Microsoft. DCEmu Reviews and DCEmu Network does not condone piracy. The primary functions of a "modchip" and/or "flashcart" are to allow you to play imported games and homebrew software that you legally own or simply just for experimenting with hardware. We in no way endorse piracy, and encourage all users to do the right thing and support the developers/manufacturers that support them. We do not take any responsibilities for any use outside of these parameters or where the use of such a device is illegal.

Images via comments



For more information and downloads, click here!


There are 0 comments - Join In and Discuss Here