April 8th, 2010, 17:02 Posted By: bandit

VDIGI VD-W3 Wii HDMI Upscaler
Manufacturer: VDIGI Electronics
Site: Buy from VDIGI Electronics
Price: USD$59.00 (WAS $75)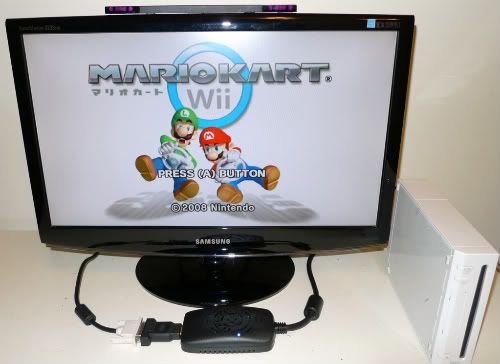 Overview : This is the world first dedicated Wii HDMI Upscaler, it can support connection though HDMI or DVI, and enjoy resolution up to 1080p or monitor resolution 1680x1050.

Features :
Powerful Video Signal conversion
Crystal shape image, Outstanding picture quality.
Full HD (1080p) output.
True 10-Bits high definition video scaler engine.
AV grade scaler engine.
User Friendly
No external power required.
Easy to setup.
LED status indication.
Wide Range Video support
Support TV (HDMI) and PC Monitor (DVI).
HDMI-Audio and Analog audio out.
Various HDTV video out.
Native resolution for LCD monitor.
Specs :
Input: Wii AV Connector x 1, USB Type A Plug x 1.
Output: HDMI x1 , 3.5mm Stereo Audio Jack.
Video lag time: 8 ms
Video In Supported: EDTV(480i/576i), SDTV(480p/576p)
Video Out Supported : 480p, 720p, 1080i, 1080p, 1280x1024, 1440x900, 1680x1050 (at refresh rate 59.94Hz)
Audio Out: HDMI audio, Analog audio.
Bi-Color LED: Blue and Red.
Operating Temperature: 5°C to 60°C (41°F to 140°F)
Dimensions (approximate): 12cm (L) x 7cm (W) x 2.5cm (H)
Mass (approximate): ~180g
Quality/Usability : This review was tested on a 32" Samsung 720p HDTV (HDMI) and a 24" Dell Widescreen 1080p Monitor (DVI).

Let me start off by saying that the VD-W3 is a upscaler. Those expecting the VD-W3 to render images to high quality, this is not the product. VD-W3 will upscale the Wii's 480p signal and can independently scale SD images horizontally and vertically to achieve a quality picture for video display up to 1080p resolutions. The VD-W3 provides an HDMI connection, which is an alternatives to AV or component connections. This will also allow you to display your Wii on a monitor using DVI with audio output.

Upscalers are not new...at least not on the market. They were usually primarily used for DVD players but this is the FIRST solely dedicated for the Nintendo Wii. Upscalers basically output smoother and cleaner images on your display.

Connecting the VD-W3 is not complicated at all. The VD-W3 simply replaces the standard AV/Component plug and has a USB cord attached to it. This USB cord is what will power the VD-W3. No extra socket or power cord needed. This is great because I have daisy chained surge protectors in order to have enough sockets. On the other end of the VD-W3 is a port to insert your HDMI cable. If you do not have a HDMI TV or monitor, you will need to use a HDMI-to-DVI adapter and use a DVI cable. Do note that using a DVI cable does not transmit sound, so you will need to insert a 3.5mm cable from an external speaker.

The bottom of the VD-W3 contains a bunch of dip-switches and a RESET button. Different combinations of the dip-switches will change resolution (480p, 720p, 1080i, 1080p and screen 1280x1024, 1440x990 and 1680x1050) as well as adjusting image (NORMAL or ENHANCED) and choosing between HDMI or DVI setup. There is an option for MODE 1 and MODE 2. There was no mention of this in the paper menu that was included but was told by VDIGI representative that this is for zooming in and out. If you have a black border, this would zoom in which will remove the black border. I did not have any black borders, so I was unable to confirm. If you have made a change in the dip-switches, the screen should automatically refresh within a couple of seconds. If it does not, you can press the RESET button and it will refresh the screen.

Comparing Component output and VD-W3's, I noticed that with the component cable, the display was brighter. With the VD-W3, the display was dimmer. As stated, this will upscale the Wii's 480p signal. There was some slight improvements that was noticeable but nothing jaw-dropping. Certain areas you would see that jaggies present in component was slightly improved and cleaner looking on the VD-W3. In some areas, jaggies was still noticeable but not as bad. DO NOT expect this to be a complete Wii HD.

With the less than a handful of GameCube games that are left in my collection, the VD-W3 had a little trouble with menus, in-game loading and intros. Images either froze or were slightly distorted. This can be resolved by playing around with the dip-switches on the bottom of the VD-W3. However, this can get annoying and bothersome.

The following images are from VDIGI using a HDMI capture card. VDIGI used AverMedia Capture HD capture card, directly captured from the VD-W3 HDMI output, this provide the best pictures on how it should be look like. For this capture card, it only allows them to capture up to 1080i HDMI/DVI output, so they cannot capture 1080p picture for your reference. This will provide a much more accurate view rather than taking a picture of a screen with a camera. Left hand side is 480p and Right hand side is 1080i, Click for the below pictures to display the bigger image (~500KB to 1MB in each file size, longer download time may needed)



Conclusion : Overall, the VDIGI VD-W3 Wii HDMI Upscaler is a nice product but had some flaws. The brightness of output is dimmer than that of my component cable and the improvement is visible but nothing drastic. Within a week of VD-W3's release, VDIGI has read a lot of comments after our newspost was posted and most of the comments were about the price. After serious thoughts about the comments from potential buyers and for the Wii market need, VDIGI has dropped the price from $75 to $59! VDIGI's VD-W3 is the first Wii HDMI dedicated upscaler on the market and there is no comparable product to compare price. It's difficult to set a starting price but VDIGI used the upscaler price standard to define the VD-W3 as the same grade as most of the common AV upscalers.

I do agree that the $75 price tag was a bit steep but I am glad (as well as many others) that VDIGI lowered the price to something more affordable.

If you dont have additional HDMI cables, you may want to purchase VDIGI's 1.5m/5ft HDMI cable (Male to Male 1.3b 28AWG with Ferrite Cores) for an additional $8. If you purchased it separately, it would be $16.

If you are using a DVI cable for your monitor, VDIGI Electronics sells a Female DVI to Male HDMI Converter for an additional $5 with purchase of VD-W3 or $10 by itself. Purchasing both the 1.5m/5ft HDMI cable and converter with VD-W3, its $12.00. Its not a bad price for the combo but its either one or the other. You cant use both.

VDIGI is open to comments, suggestions and will do suitable adjustment to respond to feedbacks.

Images via comments



For more information and downloads, click here!


There are 11 comments - Join In and Discuss Here