April 16th, 2008, 16:38 Posted By: bandit

Acekard 2 DS Card MicroSDHC SLOT-1
Manufacturer: Acekard
Site: Buy from DealExtreme / Buy from VolumeRate / Buy from VolumeRate / Buy from LighTake / Buy from OzModChips / Buy from Shop.01Media / Buy from BambooGaming
Price: $32.00-$55.00




Overview : Acekard 2 is now updated to Acekard 2.1 DS MicroSDHC SLOT-1.

The Acekard 2 is the same size as an original game cart and you don't have to flash your machine or use a passme in order to use the Acekard 2.

Never lost save data - Acekard 2 use the technology of directly writting save file to MicsoSD card. No need to manually select save size or backup save when turn on DS. No battery needed. Acekard 2 can use save files from other flash carts and do not need convert. All you need to do is make sure the save file has the same prefix name and put it at the same directory of ROM. Then you can just run the game to use new save file.

Perfect compatibility - Acekard 2 inherit the best quality of acekards products. AK2 support clean rom and you can just drag and drop it on MicroSD card to run.
*Loading would be a little long when first run a game due to creating save file. The load time will be very fast at the next time.

Support Homebrew programs/games - The Acekard 2 is compatible with all homebrew because of the DLDI auto-patcher. You can just copy the homebrews to the MicroSD card and run it. You can use Moonshell, one of the most well known homebrew software on DS, for multi media. Watching movie, listening MP3, reading TXT novel on DS is so easy! Please download moonshell for AK 2 here.
*Some homebrews need to be put at the root of MicroSD card for best compatibility.

Support any brand of MicroSD card - Acekard 2 can be meet with any brand of MicroSD card. Do not need to worry about the speed of MicroSD card. AK2 supports also HC memory (4Gb+).

Support Action Reply cheats. Build-in editor - Acekard 2 support Action Replay cheats in .dat, .xml and .cc format. You can select how to use AR cheats by using the build-in editor.

1, Copy AR cheats in .dat or .xml format to /__ak2/cheats. Copy .cc format file to the same directory of ROM.
2, Press "Y" to popup the editor.
3, Select "Cheat DB file".
4, Select the cheat file.
5, Select "Rebuild".
6, If you have the cheat code of the game then a list window will be shown. You can use "X" and "Y" to enable or disnable them.
7, Press "A" to save your changes and enter game for fun.
acekard2

Built in "Rom Trimming" Function - The Acekard 2 has a "Rom Trimming" Function built in. When you copy a file in the Micro SD , the Acekard 2 will automatically trim any un-necessary data in a ROM.

Fully touch screen operation - The Acekard 2 (and R.P.G.) utilizes the idea of the iPhone which gives the customer a totally new control experience.
* You are able to use "Button Control" as well.

Can be used as a Passme to boot from slot-2 flash cards. Run GBA games by using expand card - the Acekard 2 can be used as a passkey, so you can boot your slot2 flash cards with it.

AK2 also support 3-in-1 expansion card. You can run gba games from MicroSD card directly.

*You need insert MicroSD card with OSMenu to use Passme function.
*Expansion card sold separately.

Build-in file operation - You can use copy, paste and delete at the files in MicroSD card.

Support Multi-language - You can easily change the language within Acekard 2. There are 8 languages in the firmware, Which are Simple Chinese, Traditional Chinese, English, French, Italy, Spanish , Japanese and German. You can modify and replace these languages text as you wish. They are all in /__ak2/language/.

Support Skin and Dynamic skin change - Acekard 2 use the same skin system of AK RPG. You can easily DIY Acekard 2 skin, and change it at anytime. All the pictures, buttons, text, even their coordinate can be customized. You also can add your own customer text and customer pictures. Same skin different style! You can find more skins here.

Perfect GUI -
Ak 2 will jump to the folder which you have run game last time.
Every file and folder has icon in front of the name. Games will display games icon directly.
You can use simply content view for more content shown.
You can config the scrolling speed and whether to show the hidden files.
Support soft-reset, Download play and WIFI playing - AK 2 support soft-reset in game. You can return to AK 2 menu when you're playing game. You do not need turn off DS to change games. You can disable this function in menu.

Support brightness adjustment

Features :
Perfect compatibility. No need to convert, No need to flash!
Save file is written directly to TF card. No need to manually select save size, no data loss.
Automatic DLDI patching. Run homebrew programs without converting.
Support soft-reset, Download Play and WiFi gaming!
Support SDHC TF card. Virtually unlimited storage size !
Support any brand of TF, with no slowdown!
Support Action Replay cheats . Build-in editor!
Low power consumption for longer operational time!
Built-in multiple languages and DIY skinning!
Quality/Usability : The Acekard 2 is said to be Acekards budget alternative flash cart to their dual-memory NAND/MicroSD Acekard R.P.G. The Acekard 2 does not have built-in memory nor a USB port on it. Its your normal looking flash cart that we have all been accustomed to.

The plastic blister pack contains the Acekard 2, microSD/SDHC card reader (Acekard printed on it) and a cardboard insert with instructions. The instructions contains information on where to download the latest files (those who dont know, it should always be from manufacturer's own website), how and where to place custom skins in both English and Chinese. Its pretty standard these days that manufacturers include card readers. So if you have one from a previous flash cart that is a microSD/SDHC card reader, you wont have a need for this unless you have one that doesnt support SDHC cards, than you'll need this.

Like all slot-1 flash carts on the market, it is the same size as the original DS games. The sticker logo of the Acekard 2 has a shiny rainbowish look to it. Looking at the sticker, you can see the chip that is inside bulge out slightly. The cart itself is held in place with plastic tabs on the side rather than the usual screw method. I'm not too fond of the plastic tabs as they can break easily. The M3DS Real uses the same casing style and the tabs broke if bent. It rendered the card useless. The card also has a spring loaded mechanism for the microSD. Some people like it and some people dont. The spring loaded action is very sturdy and doesnt get stuck.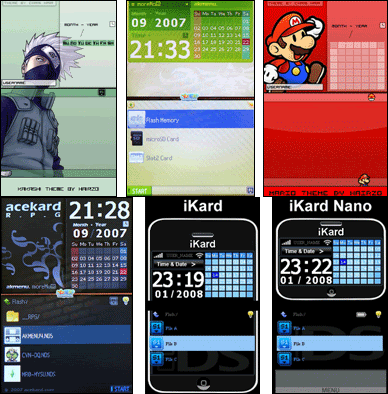 The GUI OS is exactly the same as that of the R.P.G. The top screen displays handheld name, calendar, time and date. But the bottom screen is slightly different on the Acekard 2. Instead of getting three menus (Flash Memory, microSD Card and Slot2 Card) like the R.P.G., you are only given the latter two. The screen can be controlled either with pad/buttons or stylus and lets you choose your files.

Like most flash carts, the GUI is skinnable. Acekards forums has some nice looking skins available. The bottom screen also contains folder up icon on the top left allowing you to go back to previous folder, screen brightness on the top right. On the bottom is a "Start" button. This is where the options/settings for the GUI reside. You can also access this menu simply by pressing the START button on the DS. In this menu, you have following selections to choose from: (similar to R.P.G. but worded differently)
Copy, Cut, Delete, Paste: allows user to transfer files within the microSD
Patches: enable Download Play, In-Game Cheat, and In-Game Soft Reset (L+R+A+B+DOWN)
System Options: change skins, languages, brightness (DS Lite only), allow which files show up in the browser (NDS, NDS+SAV and All), and toggle the ability to trim ROMs
Properties: shows information on the file selected
Help: brings up menu showing what functions all the buttons play in the GUI
Ak 2 recognizes .NDS and .SAV files and folders and shows only four files at one time. Selected files will have a pulsating icon. Unknown files will have a question mark beside it.

By now, all flash carts should be 100% ROM compatibility. The Acekard 2 also automatically detects saves. There should be no problems what so ever whether it be lag, unable to load or run games. All games we loaded for testing purposes, have loaded and worked fine on both a standard 1GB microSD (Japan) as well as a 4GB microSDHC (Japan). This goes for regular playing as well as multiplayer, download play and WiFi.

Majority of the homebrew we tested worked nicely as Acekard R.P.G. supports automatic DLDI patching.

Conclusion : Overall, the Acekard 2 DS Card MicroSDHC SLOT-1 works just as good as the Acekard R.P.G. and newer flash carts. The Acekard 2 is a budget alternative to the R.P.G. but keeps its sweet GUI and functionality minus the internal NAND memory. Those who like Acekard's GUI style, microSDHC compatibility and a great all around flash cart, will not be disappointed with the Acekard 2.

Please note that none of the "upgrade" products listed in this site are endorsed by Nintendo, Sony and/or Microsoft. DCEmu Reviews and DCEmu Network does not condone piracy. The primary functions of a "modchip" and/or "flashcart" are to allow you to play imported games and homebrew software that you legally own or simply just for experimenting with hardware. We in no way endorse piracy, and encourage all users to do the right thing and support the developers/manufacturers that support them. We do not take any responsibilities for any use outside of these parameters or where the use of such a device is illegal.

DIGG THIS


Images via comments



For more information and downloads, click here!


There are 11 comments - Join In and Discuss Here