March 31st, 2011, 22:11 Posted By: bandit

Xbox 360 Kinect Sensor Cable Extension
Manufacturer: N/A
Site: Buy from LighTake
Price: $8.79

Xbox 360 Kinect Sensor Power Supply Adapter
Site: Buy from LighTake (US) / Buy from Amazon (US) / Buy from PriceAngels (US) / Buy from PriceAngels (EU) / Buy from DealExtreme (EU) / Buy from VolumeRates (EU)
Price: $13.80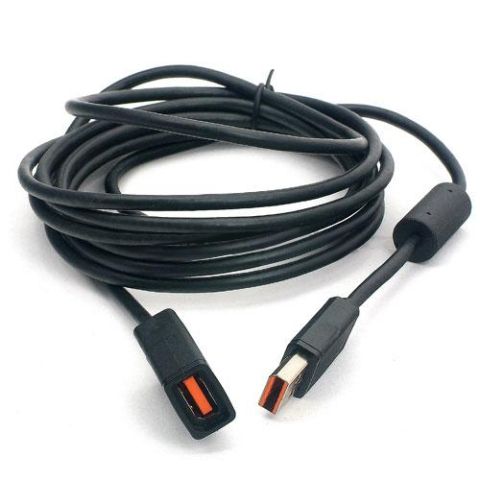 Overview : The Xbox 360 Kinect Sensor Extension Cable will allow you to extend your connection by 3M meaning you to place your Kinect Sensor virtually anywhere in your living space.

This is an ideal item for large living areas as well as entertainment centers also if you Kinect sensor is on your wall, above a fire place ect.

Features :
The extension cable allows you to put your Kinect sensor bar an additional 3meters from your Xbox 360
Allowing for more complex configurations or home theater applications
It's inexpensive and provides the reliability that only a hard-wired solution can accomplish
Ideal for large living rooms and large entertainment centers
Quality/Usability : *This will only work on Xbox 360 Slim consoles or with power adapter from standalone Kinect Sensor. This does not allow you to connect the Kinect directly to the back of the original Xbox 360.

Some gamers may have their systems in one end of the room from their TV or monitor while others may have them near each other or in entertainment centers. However you have your systems setup, you may need an extension cable for your Xbox 360 Kinect. The extension cable has proprietary plugs that will only fit into the Kinect port on the Xbox 360 Slim or if you purchased the standalone Kinect, it comes with a power supply and it can be plugged into the Y-split plug. The Kinect draws power from the special proprietary port on the back of the Xbox 360 Slim console but with the original Xbox 360, a power supply is needed. This power supply has a normal USB plug that plugs into the back of the Xbox 360 but has an extra cable that splits which contains the proprietary Kinect port. This is where the Kinect draws its power from and where the extension cable connects to.




The extension cable gives you an extra 9'-10' feet of additional cable and is durable. To use this extension cable, the proprietary USB plug on the extension cable goes into the Xbox 360 Slim console or to the power supply (standalone Kinect only). On the other end of the extension cable is a proprietary port and this is where you plug the Xbox 360 Kinect plug.

Having used the extension cable, there was no lag or delay in signal being transmitted. Since we only have one extension cable, we have do not know what would happen is you daisy chained 2 extension cables if you needed more than 10' feet of cable. However, from what I have read on the internet with other extension cables, you are not able to daisy chain 2 or more cables. If you daisy chained 2 extension cables, there would be no power.

Conclusion : Overall, the Xbox 360 Kinect Sensor Cable Extension gives gamers an additional 10' feet of extra cable. This is perfect if your console and TV is not near each other or have your Kinect mounted on a wall or on a stand. The price is very very reasonable and affordable compared to the Officially licensed extension cable from PDP that retails for $49.99 and does exactly the same thing. Even though I have not confirmed it myself, it seems based on reports on the internet and if all extension cables are the same, you will NOT be able to daisy chain extension cables to give you an additional 10' feet.

Images via comments



For more information and downloads, click here!


There are 0 comments - Join In and Discuss Here