February 25th, 2010, 03:09 Posted By: bandit

RudeGameware.com is a brand new line of gaming accessories for both the PC and consoles, featuring unique and stylish headsets, gaming mice, versatile software and more!




Primal Wireless Headset & Mic for XBOX 360
Price: $99.95
Available: Now

Is it really true p0wnage if there is no smack-talk involved? Luckily you'll never be a part of such a unfathomable dilemma with the new Primal wireless headset and mic for the XBOX 360. Now you can get full game audio without disrupting your entire household (and neighbors), plus a fully wireless mic so you can make sure your victim is fully aware that you just pimp-slapped him.

We've given it uber-comfortable padding and a lightweight design so you can wear it until the 4 energy drinks you just downed wear off.

The infrared transmission means great quality sound over 25' away! Plus unlike other wireless headsets, the Primal headset doesn't cause interference with your wifi adapters.

Other so-called XBOX headsets tie you to your controller, like a leash. Not with the Primal headset! You are completely cord-free, so no more yanking your headset off or getting tangled up with your controller.

Not on XBOX Live? Use the Primal Headset as a fully wireless headset for any audio device including TV or music players. Watch TV from your bed without disturbing your mate.

Features:
The only completely cordless headset for the XBOX 360
Includes the Primal Wireless Mic! Exclusive high-sensitivity, no-interference wireless microphone for crystal clear chat
Includes rechargeable battery charging compartment
Digital audio transmission for CD quality sound
Light weight and cushioned ear cups for extreme comfort
Fully supports wireless reception of any TV or home theater audio
Specs:
Speaker Unit: 40 mm Cobalt Magnet Driver
Impedance: 32 Ohm
Power Requirement: AC/DC adapter 12V DC (North American units come with 110V power supply, international orders will include 220V power supply for transmitter)
2 AAA batteries for headset
S/N Ratio: 42dB @ 1KHz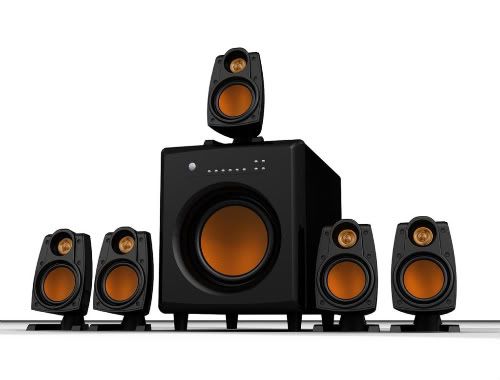 Primal 5.1 Wireless Home Theater Speaker System
Price: $199.95
Available: Soon

Do you want full surround sound, but hate the wires running across your floor? The Primal 5.1 Wireless Speaker System gives you full, booming sound, a remote with independent channel control, support for any audio device or PC and best of all, fully wireless satellite speaker to place anywhere you'd like. So experience the surround sound experience you've been dying for in your living room, bedroom, dorm room, entertainment room, or whatever you want to name your room without worrying about tripping over wires.

How many times have you thought to yourself, "I'd love to have surround sound in here, but there's no way I'm going to run wires across the floor?" We sure did. Heck, we want surround sound in every room if we can get it, especially if it's at a good price. So we built the answer. With a 6" subwoofer and 5 satellites, you've got full coverage. No, we're not expecting you to replace your $2000 home theater system with this. But if you want a system that's going to seriously jack up the audio in virtually any room in your house/apartment/dorm/castle/dungeon, you don't want to pass these up. And they look pretty spiffy, too.

Features:
Whopping 125' Range
2.4 GHz ISM Band Digital Transmission
Latency Free
Remote Control
Rear speakers require electrical jack.

What do you think about the products? Looks interesting.

Images via comments



For more information and downloads, click here!


There are 0 comments - Join In and Discuss Here