January 13th, 2011, 16:02 Posted By: bandit




We at DCEmu Reviews bring you another EXCLUSIVE first look at XCM's new F-1 Converter.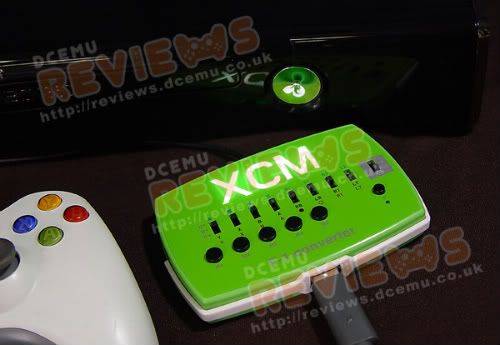 XCM has received many gamer requests to develop a converter for a G25/G27 racing steering wheel to be used on the Xbox 360™ and Xbox 360 Slim™ console, we are glad to tell you that we have successfully made a converter. The converter is not only compatible with the G25/G27 racing steering wheel but also includes a built-in combo attack memory function for fighting games. You just simply press one button to execute the complicated combo attack with ease. Don't miss your chance to own one!

Compatible with all versions of Xbox 360™/Xbox 360™ Slim, PS3™/PS3™ Slim consoles.
Built-in converter allows you to use G27 and G25 racing steering wheels on Xbox 360™ with Xbox 360™ racing games.
Plug and Play.
Supports Rumble.
Built-in Combo Attack function on 5 Memory Buttons - Program up to 20 button combos to a single button to pull off devastating moves at will!
Enable Rapid Fire/Turbo on wired Xbox 360™, Original Xbox™ and PS3™ controllers when connected to your Xbox 360™/Xbox 360™ Slim, PS3™/PS3™ Slim consoles.
Supports PS3™ SIXAXIS games.
Supports analog stick tilt functionality on Xbox 360™ controller for the PS3™ console.
User controlled Rapid Fire/Turbo firing rates (High Speed, Medium Speed, Off).
Supports wired Xbox 360™ controller, PS3™ controller and Original Xbox™ controller on Xbox 360™/Xbox 360™ Slim, PS3™/PS3™ Slim consoles.
Get another friend to get a F-1 Converter and you can both share saved combos! (PC required).
No price or release date has been announced but it should be available soon. We'll have videos of it once its available to use. Keep an eye out on our YouTube channel.



For more information and downloads, click here!


There are 2 comments - Join In and Discuss Here