August 3rd, 2010, 16:01 Posted By: bandit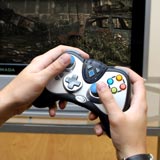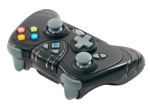 The WildFire2 (Europe)/TurboFire2 (US) controller for Xbox 360 faithfully recreates all of the functionality of the original Xbox 360 controller, including vibration feedback and full analogue input.

In addition, the WildFire2/TurboFire2 controller enhances your gaming with a programmable Turbo Rapid Fire function and new ergonomic design

Programmable Turbo Rapid Fire

The WildFire2/TurboFire2 controller's secret weapon is its programmable Turbo Rapid Fire that can be enabled on any one or more of 8 buttons, giving you a firepower advantage that can make all the difference. Just start the programming, choose which buttons you want to use Rapid Fire on and set the Turbo Rapid Fire mode. The WildFire2/TurboFire2 controller has three selectable speed profiles ensuring usage of Rapid Fire with the widest range of games. With rapid fire enabled, weapons like single shot pistols in Call of Duty: Modern Warfare 2, become lethal, fully automatic weapons that can empty a clip on an enemy in a second!

Ergonomic Design

All this functionality is packed into a stylish, precision engineered and exceptionally rugged controller which delivers performance and is built to withstand aggressive fast paced game play.

Features:
Direct Sync with Xbox 360
No cord or dongles required
Programmable Turbo Rapid Fire
Integrated headset port for Xbox Live play
Dual rumble motors
Truly ergonomic shape fits perfectly in your hands
Fully compatible with Xbox 360
Blue glowing grips showing when Turbo Rapid Fire is enabled
Compatibility Warranty
Requires 2 x AA batteries (not included)
Datel was been sued by Microsoft over its third-party Xbox 360 controllers. Microsoft alleges that Datel infringed on five Microsoft patents with Datel's TurboFire and WildFire Xbox 360 controllers (mainly on the looks since it closely resembled to the OEM controllers). However, MS has been strict on who has the license for such wireless technology for their system, so how did Datel get the controller to sync with the Xbox 360 console? I'm sure MS will be taking a very very close look at this controller.

Datel's website even states the following...




Source: CodeJunkies UK (£29.99) / CodeJunkies US ($44.99)

Images via comments.



For more information and downloads, click here!


There are 1 comments - Join In and Discuss Here